Main Notwithstanding Takeaways:
Notwithstanding means despite, nevertheless, however, or although.
You can use this word as a preposition, as a conjunction, or as an adverb.
A common legal phrase is "notwithstanding anything to the contrary."
Antonyms include because of, given, consequently, and accordingly.
Notwithstanding his broken heart, Victor continued writing idiom-laced articles about love.
Her teacher's reaction notwithstanding, Sarah decided to give her first recital.
She didn't apologize,
notwithstanding
he'd waited for two hours.
Not and Withstanding stumble into a bar and flop dramatically over the counter. The barman says, "Is this some kind of dangling preposition?"

🤩 Flawless spelling & grammar are just the beginning. Eliminate errors, get topic ideas, increase productivity, and outrank your competition with the #1 smartest content editor — INK. 🤩

Get the Best Writing Tool For Free

First AI web content optimization platform just for writers

GET INK
Notwithstanding is a complex word. If you're not sure what it means or when to use it, you're not alone. In this guide, you'll get a detailed notwithstanding definition as well as plenty of synonyms and antonyms. You'll also see how and when to apply the word so you look (and sound) like a Pro.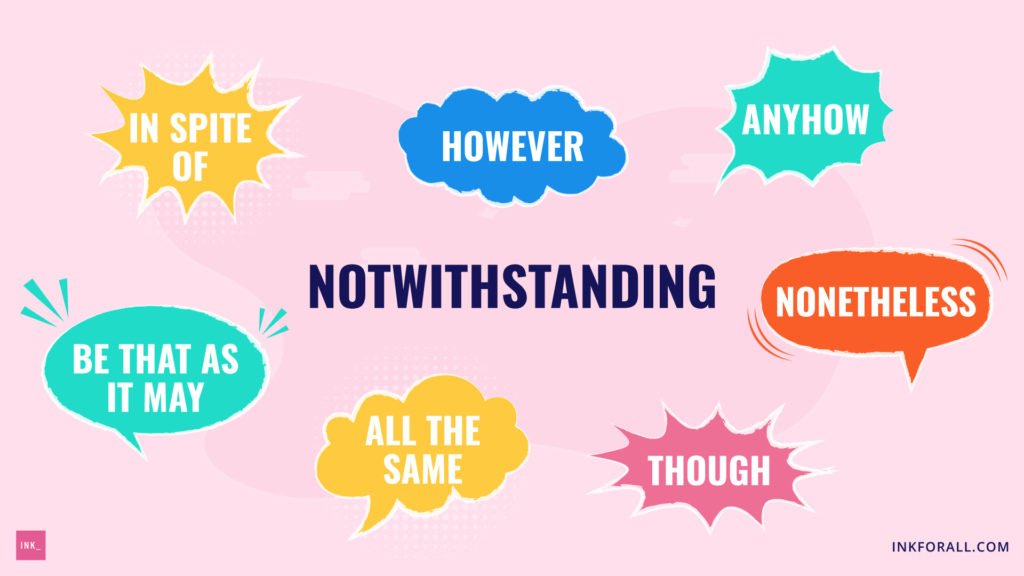 What Does it Mean to say Notwithstanding?
Notwithstanding means despite, nevertheless, however, or although. In modern English, this term is used most commonly as a preposition ("His sprained ankle notwithstanding, Marcus hobbled over the finish line"). You can also use notwithstanding as a conjunction ("Nobody noticed the ancient book, notwithstanding its previous place in the museum display") and as an adverb ("Bert hates the logo and the audio sequence, but we will press on notwithstanding").
(Preposition): Notwithstanding the hairpin bend, Jane got her dirt bike to the end of the learner's obstacle course in one piece.
(Conjunction) He managed to make all 50 cupcakes, notwithstanding the lack of eggs on hand.
(Adverb) Bert hates the logo and the audio sequence, but we will press on notwithstanding.
To understand and define notwithstanding properly, we need to pull it apart a little.
Many might expect that notwithstanding is made of three words: not, with, and standing.
In fact, it has its origins in two Middle English words: not and withstonding (from withstonden, meaning to withstand). A solid preposition in the 14th century, notwithstonding/notwithstanding slipped into common use as an adverb and a conjunction in the 15th century.
What Does Notwithstanding Mean in Legal Terms?
Notwithstanding generally means nevertheless, although, despite, or in spite of in legal writing. Its meaning in legal documents doesn't change — it's still just another word for nevertheless. "Notwithstanding anything to the contrary," for example, means that a clause overrides anything that might later contradict it. This and other multisyllabic connectors like inasmuch are common in legal writing like contracts, official reports, judgments, and other legal documents.
Examples of the word notwithstanding in legal documents might include:
Notwithstanding anything to the contrary, company dividends will be paid by the end of the calendar year.
Notwithstanding the foregoing events, my client wishes to plead innocent.
Her previous statement notwithstanding, my client now views the situation differently and wants to pay the fine.
Notwithstanding Section 8 of the contract, former employees must refrain from forming new usage partnerships in a similar field for 12 months.
The respondent has not come to court this morning, but we will log his absence and continue the proceedings notwithstanding.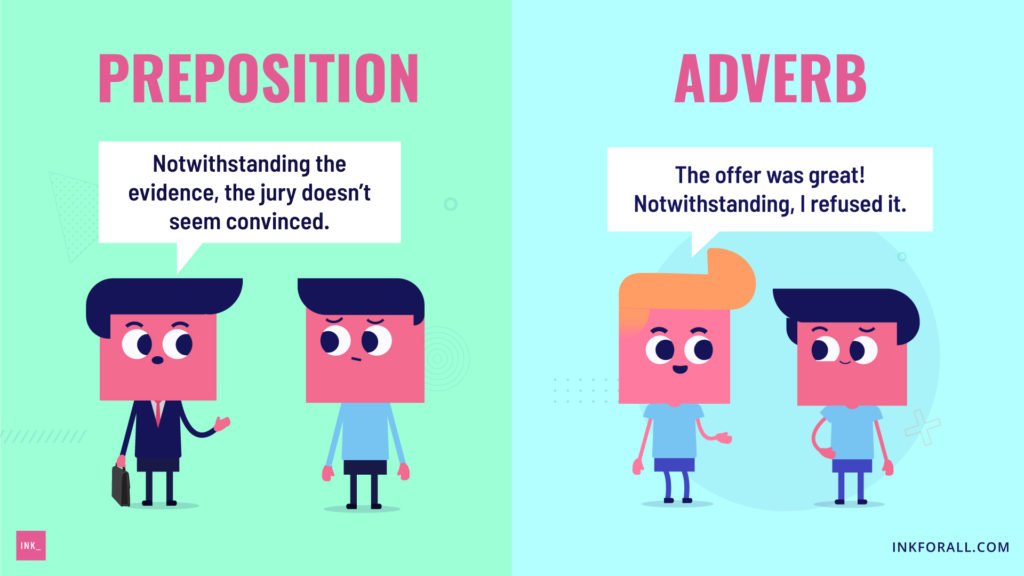 What is Another Word for Notwithstanding?
There are plenty of synonyms for notwithstanding in the thesaurus, and they include nevertheless, despite, regardless of, however, nonetheless, even so, whereas, albeit, and many more. The substitute word or phrase will depend on whether you're using notwithstanding as a conjunction, an adverb, or a preposition.
The Best Notwithstanding Synonyms:
At any rate
However
After all
For all that
Regardless of
In any event
At any rate
In any case
All the same
Regardless
Still
Despite
In spite of
To the contrary
Nevertheless
Nonetheless
Even
But
Although
Yet
Howbeit
Though
In the following examples, we replaced the word notwithstanding with one of its synonyms, which you'll see in bold:
Regardless of his headache, Rich decided to brainstorm his book title.
In spite of her father's skepticism, Cindy Lou Who insisted that the Grinch was a good person.
A ghost suddenly appeared in the entry; nonetheless, Wednesday Addams felt unmoved and continued her game of noughts and crosses.
He couldn't remember her face, although she'd been living next door for months.
Even so, Bridget thought Carl Harper had a right to take part in the quiz.
Can you end a Sentence with Notwithstanding?
You can end a sentence with notwithstanding. Where this word appears in a sentence often depends on which part of speech it is. For example, when at the beginning of a sentence, it's usually acting as a preposition ("Notwithstanding her lack of sleep, she gave a great performance"). When in the middle of a sentence, it's usually a conjunction ("They hiked all morning, notwithstanding the rainy weather"). When you end a sentence with notwithstanding, it's usually an adverb that helps add nuance to your statement ("He didn't have time to review her resume. He hired her, notwithstanding").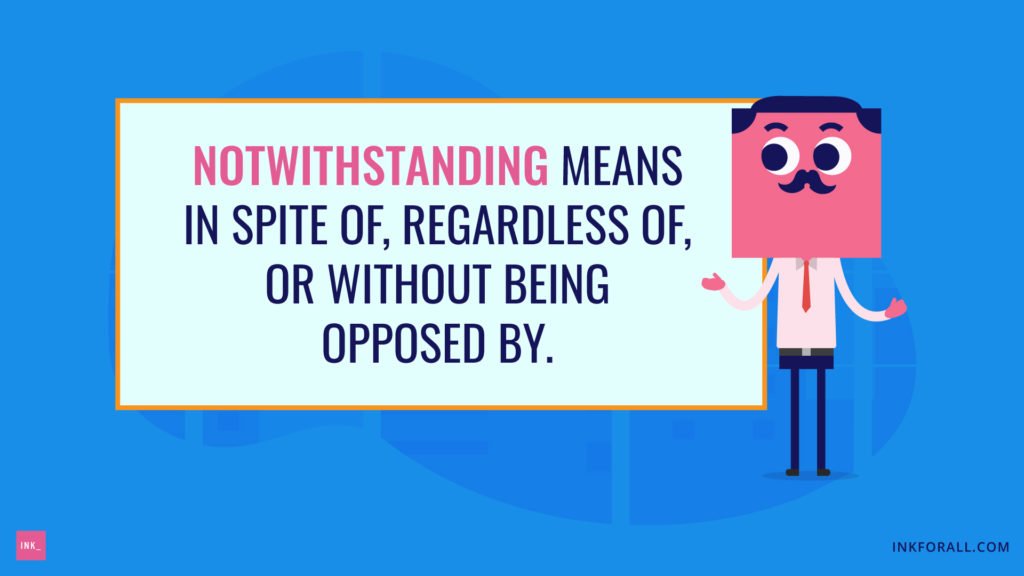 What Is the Opposite of Notwithstanding?
Antonyms of notwithstanding are a little harder to define, but they include: because of, thanks to, given, owing to, and in the wake of. Consequently, therefore, accordingly, and subsequently are also antonyms. Since notwithstanding means "regardless of," the opposite is "because of."
Opposites of notwithstanding include:
As a preposition:
because of
thanks to
as a result of
due to
as a consequence of
through
given
owing to
on the basis of
by reason of
on the grounds of
by virtue of
on account of
per
by means of
for the sake of
in the wake of
after
As a conjunction:
considering
given that
being that
seeing that
after all
As an adverb:
therefore
hence
consequently
so
thus
ergo
accordingly
subsequently
since
as a result
for this reason
because of that/this
that being the case
that's why
on account of
due to the fact
as you can see
Notwithstanding's Placement in a Sentence
:
At the beginning: Preposition
In the middle: Conjunction
At the end: Adverb
Here are some examples of opposites of notwithstanding in a sentence:
Given the current situation, we think it's best to delay the Blues vs. Greens football game.
Mark consequently turned and ran out of the language class.
The onions continued to grow, owing to an application of seaweed fertilizer.
Subsequently, Pete made arrangements to leave the country.
People fostered a first-rate sense of community because of the Great Depression.
If you replace any of the antonyms above with the word notwithstanding, you'll flip the sentence meaning. Go on — try it.
Wrapping Up
Some words are hard to grasp at first, but they're genuinely useful when you get to know them. Notwithstanding your first impressions of notwithstanding, we hope you'll make this versatile word part of your lexicon.
A Quick Notwithstanding Quiz to Help you Master it
Notwithstanding Question #1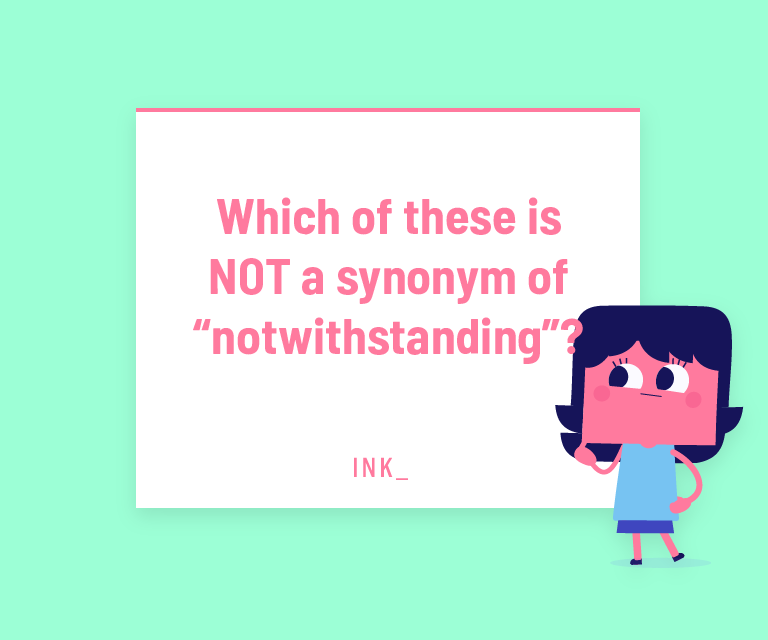 Correct!
Oops! That's incorrect.
The answer is C. "Consequently" is an antonym for "notwithstanding".
Notwithstanding Question #2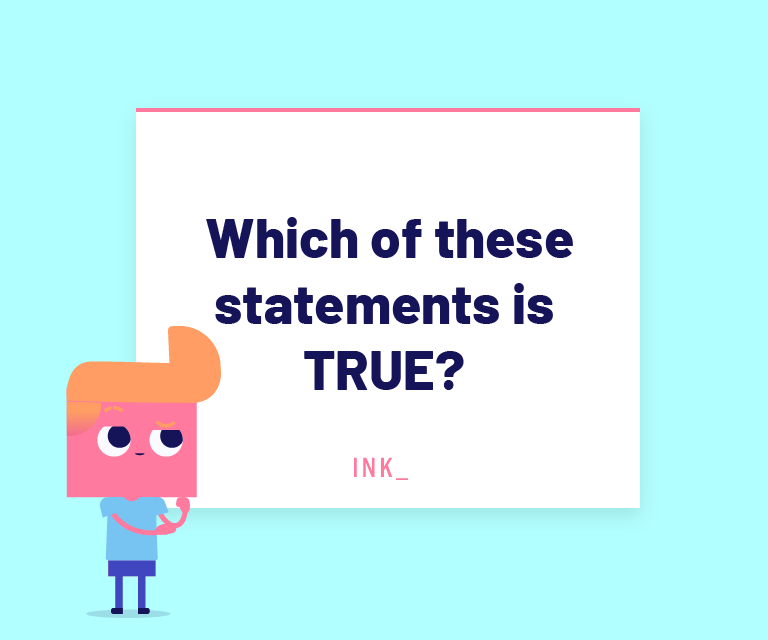 Correct!
Oops! That's incorrect.
The answer is D. You can use "notwithstanding" as a preposition, as a conjunction, or as an adverb.
Define Notwithstanding Question #3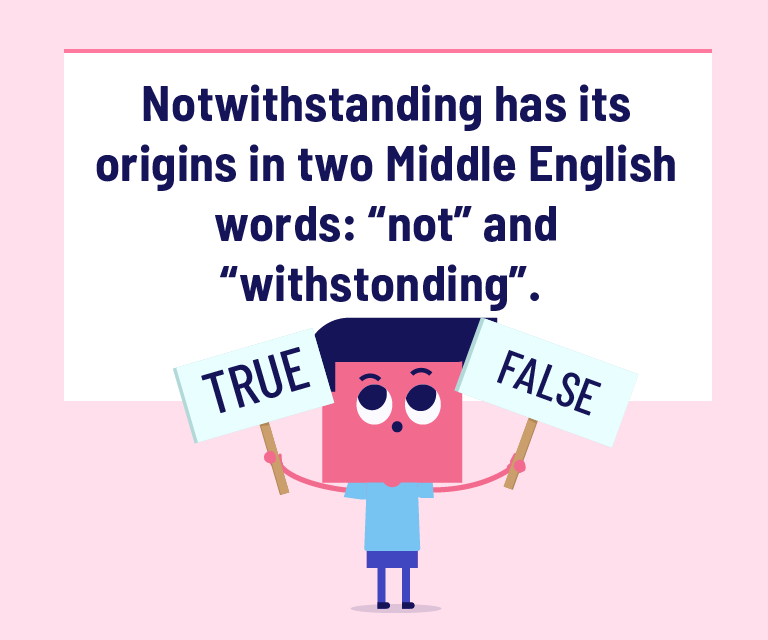 Correct!
Oops! That's incorrect.
The answer is TRUE. "Notwithstanding" slipped into everyday use as an adverb and conjunction in the 15th century.
Notwithstanding Meaning Question #4
Correct!
Oops! That's incorrect.
The answer is B. In legal documents, "notwithstanding" is still another word for "nevertheless".
Notwithstanding Question #5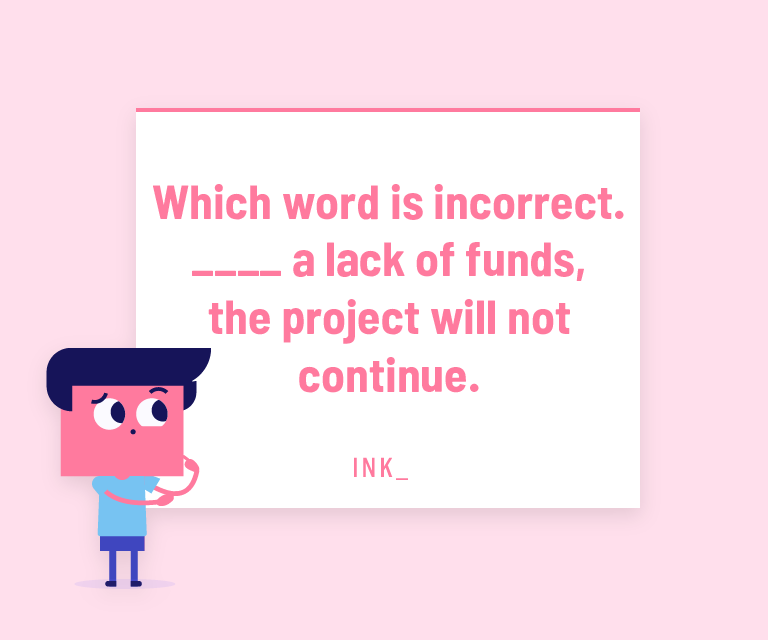 Correct!
Oops! That's incorrect.
The answer is D. This phrase means the opposite of "notwithstanding".
Notwithstanding Quiz Result
Expert!
Not bad!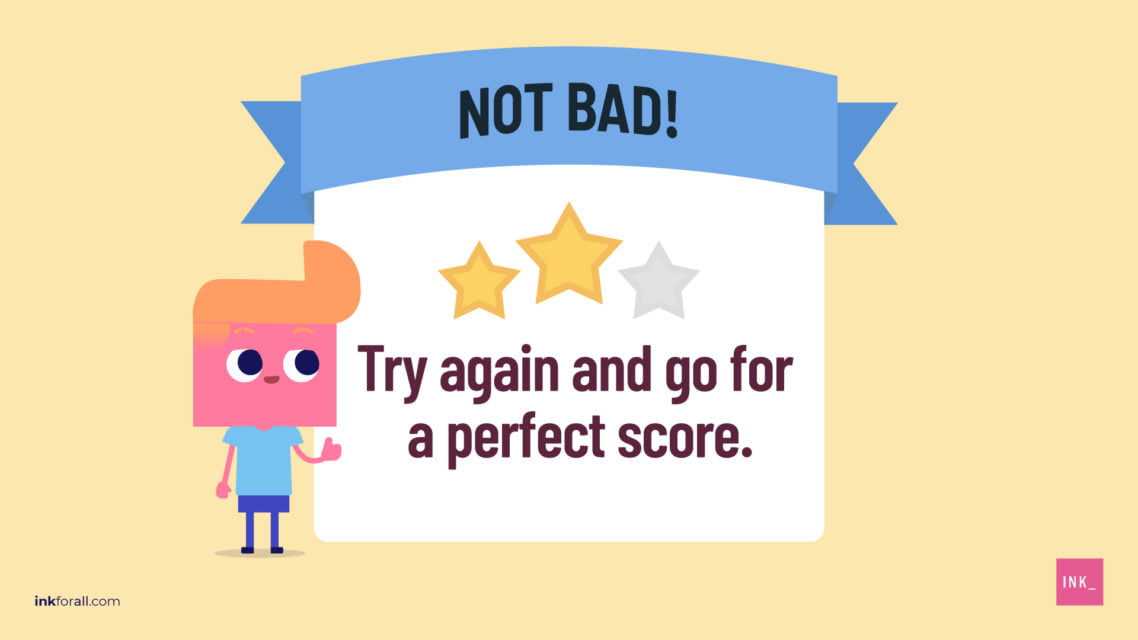 Almost got it! Review the article and try again.