Our latest blog experiment resulted in some of the most impressive growth we've ever seen.
In this case study, you'll see how we partnered with industry-leading content creators at Crowd Content to:
Grow the INK blog traffic a total of 1,700% at record speed, from 500 visitors per month to over 13,000.
Get 260x more keywords in the extremely competitive top 10 Google search results.
Grow our traffic value by more than 1,570%.
What makes these results even more impressive is how this collaboration achieved them in just over a month.
What's more, we achieved those results without paid advertising and virtually no link building.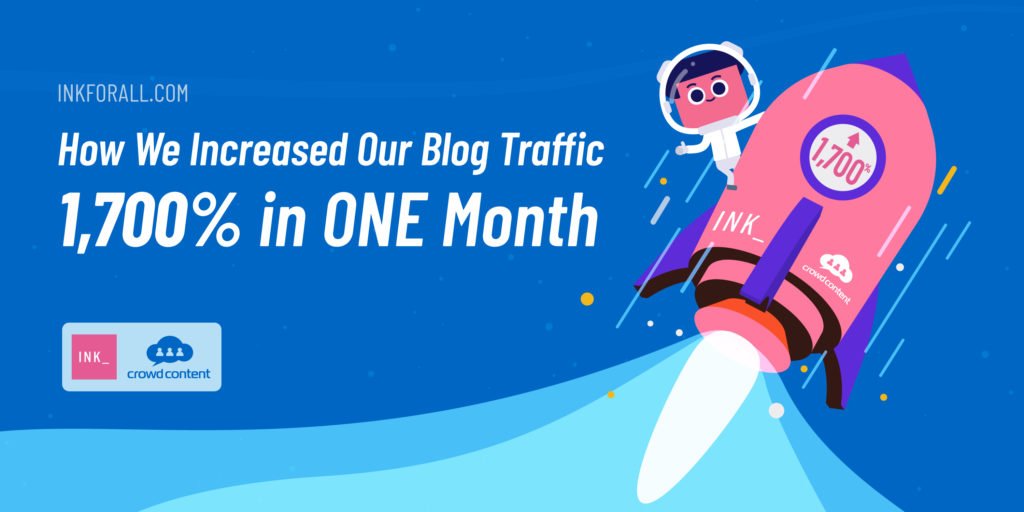 Instead, we partnered with talented writers sourced from Crowd Content who used our content optimization platform, INK.
This is the story of how INK started small with a brand-new domain and skyrocketed growth in record time.
Case Study Highlights
Before launching this SEO initiative:
INK blog traffic was hovering at around 500 organic visitors per month.
The INK domain was capturing about 3,100 relevant keywords and about 200 of them were in the top 10 Google search positions.
Traffic value was around $330.
Content Creation Overview
The talented Crowd Content team only used two resources to create the content:
Our intent research
The INK content optimization platform
The goal was to create the most comprehensive and exhaustive guides for each intent.
Since our recent data study showed that articles with an INK SEO Score over 91% are up to four times more likely to rank in the top 10 Google results, every article Crowd Content produced had an INK Score of at least 91%.
Results
In one month, our collaboration produced these industry-changing results that continue to climb day by day: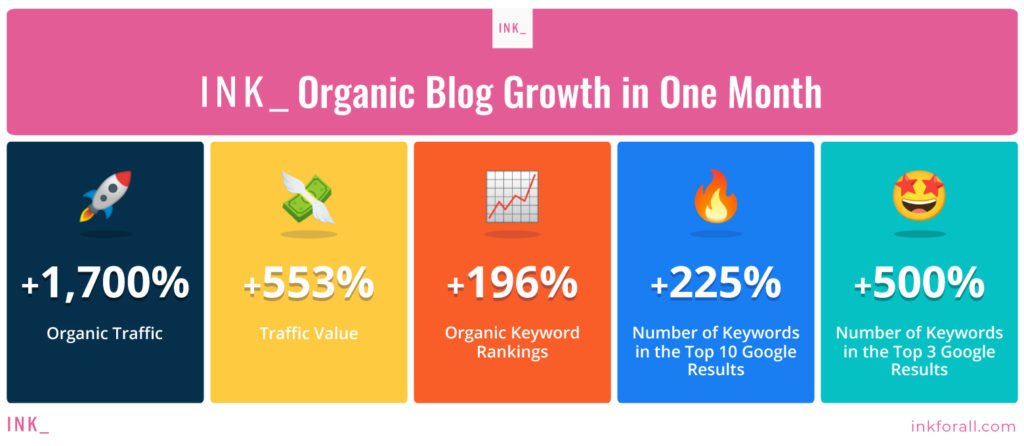 When you compare our gains with our competitors, our collaboration increased INK's traffic by over 1,700% in 1/10 of the time.
The Bottom Line
The INK editor works.
Even without backlinks, this case study is proof that relevant intent research combined with optimizing the content in our INK editor can increase blog traffic.
INK and Crowd Content set out on a mission to prove that the INK SEO editor works.
When you write content in INK, we proved that it is more likely to rank. And, not just rank, but rank competitively, and in less time.
We're well on our way to knocking the competition out of the top spot and pushing our exponential growth even further.
Ready to see what INK can do for you? Download INK for free to start exploring how to take your content to new heights.