Among and amongst are variants of each other. As such, they have identical meanings and can be used interchangeably. This quick guide takes a deep dive into the debate surrounding among vs. amongst, so you can decide which word to choose in any context.
Great idea: Want to make sure people find your content online? INK is the world's favorite editor for creating web content because it can help your content be more relevant for search engines.
Get the Best Writing Tool For Free
First AI web content optimization platform just for writers
GET INK
Main Takeaways:
Among and amongst are prepositions, meaning they express a relationship between the elements of a clause.
A preposition sits directly in front of its object.
Among and amongst can mean surrounded by, in company with, or in the midst of.
The origins of these words can be dated back to the Old English phrase on gemonge, which means in a crowd.
Among is more common in American English, while amongst appears more often in British English.
There is no absolute rule when it comes to among vs. amongst. They are interchangeable.
The debate over using among vs. amongst has raged for decades despite the words having identical meanings. They can mean surrounded by, in company with, or in the midst of.
That might leave you wondering just what the big fuss is when selecting one of these two words.
What is Correct: Among or Amongst?
The simple answer is both. Open almost any dictionary, and you'll find that these words share more than just a similar appearance. They both came from the
Old English
phrase
on gemonge
, which means
in a crowd.
Among
and
amongst
mean
surrounded by
,
in company with
, or
in the midst of
. Since they're virtually interchangeable in a sentence, the debate becomes one of style only.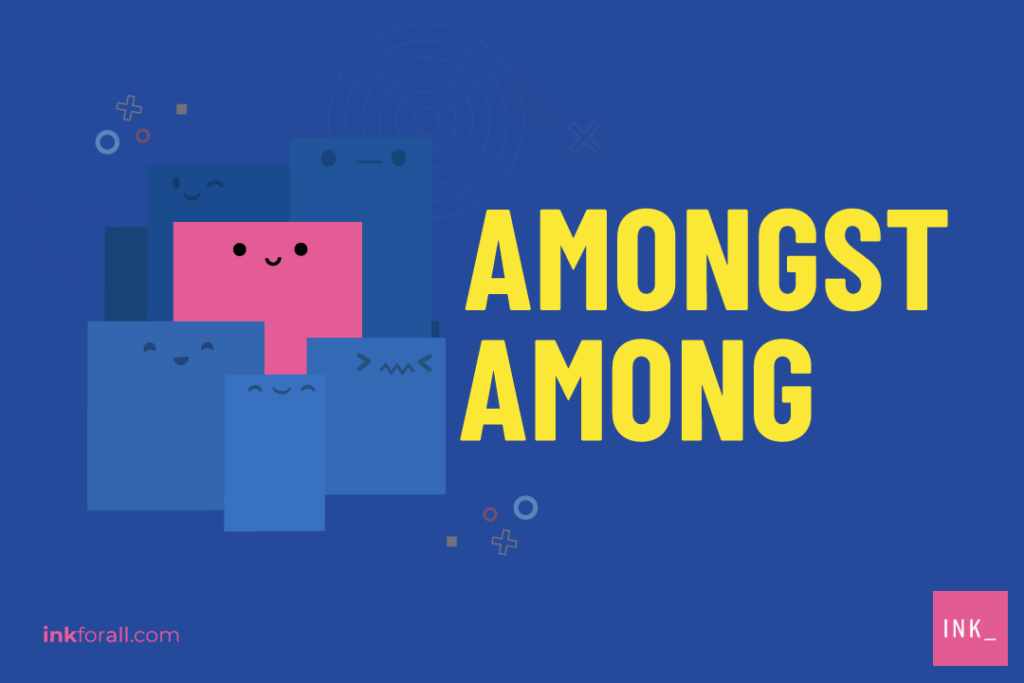 The Issue of Style
Some detractors of amongst argue that it's formal, stuffy, and perhaps even downright pretentious when compared to its shorter counterpart. This may be especially true when slipping it into idioms, such as among friends.
One consideration when choosing between among and amongst is the type of writing you're doing. If you're opting for a formal or sophisticated style, amongst may be the better choice. It can also be appropriate for poetic and dramatic writing or text that evokes a previous era.
Among, on the other hand, lends itself well to colloquial writing. That may include letters, modern fiction, and memos.
Where is Amongst Used?
Another consideration is the country of origin. American English shows a definite preference for among, while amongst is more common in British English.
Additional Theories on Among vs. Amongst
Some grammar books advocate using amongst when the preposition is followed by a word that begins with a vowel.
He traveled amongst outcroppings of rock that looked like towers.
Some grammarians believe amongst is the better choice when it's used to begin a sentence.
Amongst the most popular flowers that year were roses, daffodils, and irises.
There are no hard-and-fast rules to back up either of these theories.
Amoungst: The Third Contender
No, it isn't technically a misspelling (although it could be). Amoungst is actually an archaic form of amongst. It has long since fallen out of fashion. This one, at least, has a simple verdict: don't use it.
How to use Amongst in a Sentence?
Amongst is a preposition, which means it expresses a relationship between THE elements of a clause. A preposition is always placed directly in front of its object.
We sat amongst the wildflowers.
In this example, the preposition, amongst, sits directly before its object, the wildflowers.
If you were to replace amongst with among, it might change the style of the sentence, but it wouldn't alter the meaning.
We sat among the wildflowers.
Among vs. Between: Just When you Thought the Fight was Over
There's actually a third contender in the ongoing battle between among and amongst. It's the word between.
Like among and amongst, between is a preposition. To understand whether you should choose among or between, it's important to remember that prepositions express relationships. Those relationships define the differences between these two words.
The common belief is that between is used to define the relationship of just two things. Meanwhile, among is used with three or more things. While it's a good rule of thumb, unfortunately, it's not entirely accurate.
The Rules of Among vs. Between
The following rules provide a more accurate way to determine which word is correct in a given sentence.
Use between when the sentence names distinct, individual things.
Choose among if there are three or more items that are not specifically named or belong to a group.
Between: She was having a hard time deciding between Harvard, Yale, and Cornell.
Among: She was having a hard time deciding among the universities.
The Debate Continues
Like many grammar issues, the debate surrounding amongst vs. among will likely continue until one of the two words falls entirely out of usage. In the meantime, choosing the word that feels right for your context may be the best way to pick a winner among these candidates.