Main Takeaways:
Whose describes possession, while who's is a contraction meaning who is or who has.
Whose and who's are not interchangeable.
Use whose when referencing ownership.
Use who's in casual conversation where contractions are appropriate.
People often associate an apostrophe followed by the letter 's' with ownership. Because of this common misconception, choosing between whose vs. who's becomes confusing.
Great idea: Want to make sure people find your content online? INK is the world's favorite editor for creating web content because it can help your content be more relevant for search engines.
Get the Best Writing Tool For Free
First AI web content optimization platform just for writers
GET INK
Whose vs. who's: which word is right for your sentence? One is a pronoun, and the other is a contraction. Learn the difference between these homophones in our practical guide.
Whose vs. Who's: What's the Difference?
Whose refers to possession, while who's is a contraction that means who is or who has.
Whose definition:
(pronoun) a question word used to determine which entity is responsible for an item
Who's definition: (contraction) who is; who was; who has
Who becomes a contraction when you add an apostrophe and 's' to it. Contractions can get confusing, but you can find more details about them in our apostrophe guide.
Whose and who's are homophones. That means the two words sound alike in speech but are spelled differently. Other examples of homophones include:
blue and blew
to, too, and two
red and read (past tense)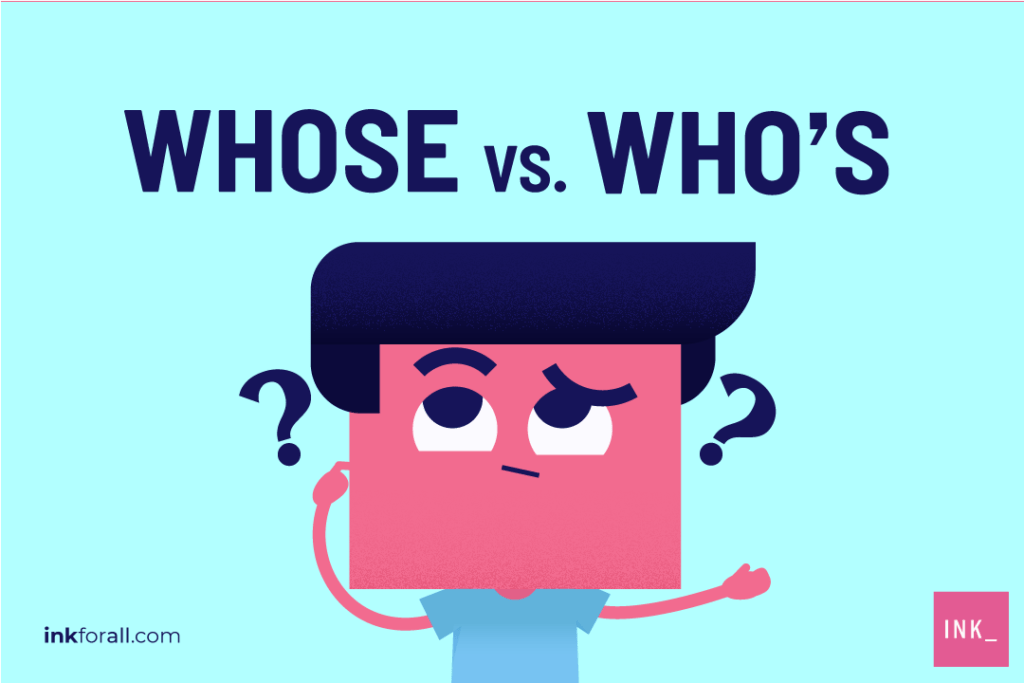 How to use Whose in a Sentence
Use whose when describing an entity that owns or possesses an item. Think of it as a replacement for whom or who, though it isn't always grammatically correct to swap those words.
I don't know whose keys these are, so I can't return it.
Whose presentation did you watch?
The receptionist asked whose coat was on the couch but none of the guests answered.
Before using whose in a sentence, make sure you don't need who's instead. Whose signifies ownership or possession, but many people are tempted to use who's. That's because words that end with an apostrophe and 's' also convey ownership.
I rode home in Sheila's car.
Jason invited me to his sister's house for dinner.
My coworker's presentation was horrible.
My dog's food is made from real turkey.
In the examples above, ownership or possession is indicated with an apostrophe and an 's.' However, who's breaks this rule. It's a contraction, not a possessive word.
Who's means who is, who was, or who has. So, you can't use it interchangeably with whose. It's appropriate for casual conversations where contractions are common.
Who's knocking on my door?
I don't know who's doing that.
Still confused? When writing a sentence, ask yourself whether you can replace whose/who's with who is or who has. If the answer is yes, use the contraction who's rather than the pronoun whose.
Whose or Who's Examples
Whose is often a replacement for who or whom, though your sentence may require some rephrasing. You can't necessarily swap the words.
To whom do those shoes belong?
The possessive form of whose often describes a person, but you can also use it for a pet or location.
Whose dog biscuits are those?
Missourians often take a quick trip to St. Louis, a city whose central location makes it a prime spot for staycations.
Stella bought treats for Stanley, a cat whose favorite snack is made from bacon.
Who's is a contraction. Use it in place of who has, who is, who was. Who've is a similar word, and it means who have.
My boss told me who's attending the meeting.
I don't know who's misplaced these files.
You can also use both forms of this homophone in a sentence, though it gets confusing.
Who's wondering whose files those are?
Whose files are those, and who's working on them today?
Don't let grammar errors detract attention from your brilliant work. Wow your audience—or at least get a passing score on your next essay—by using who's and whose correctly.