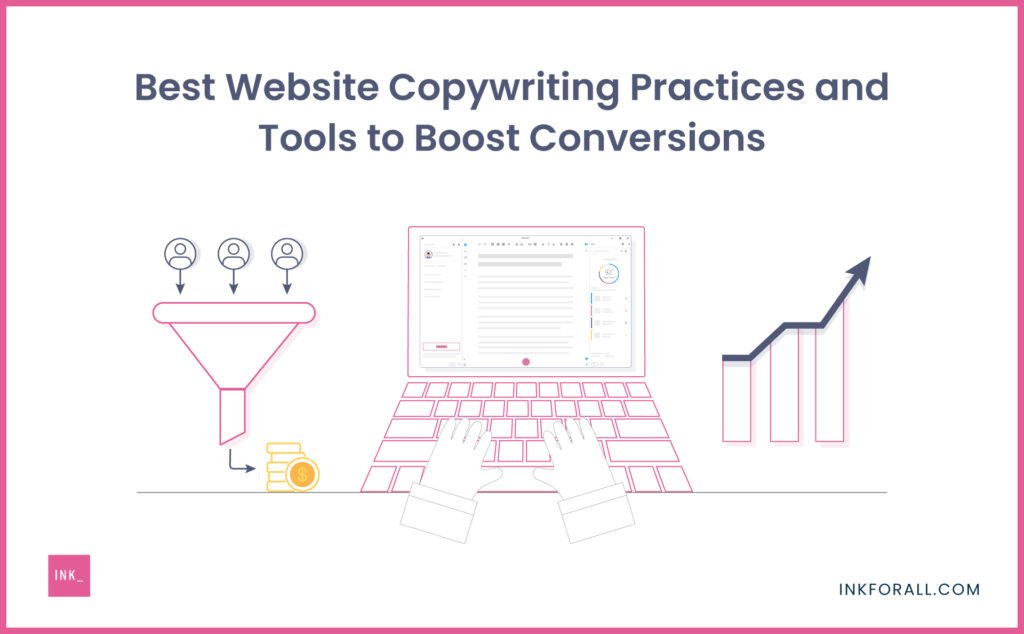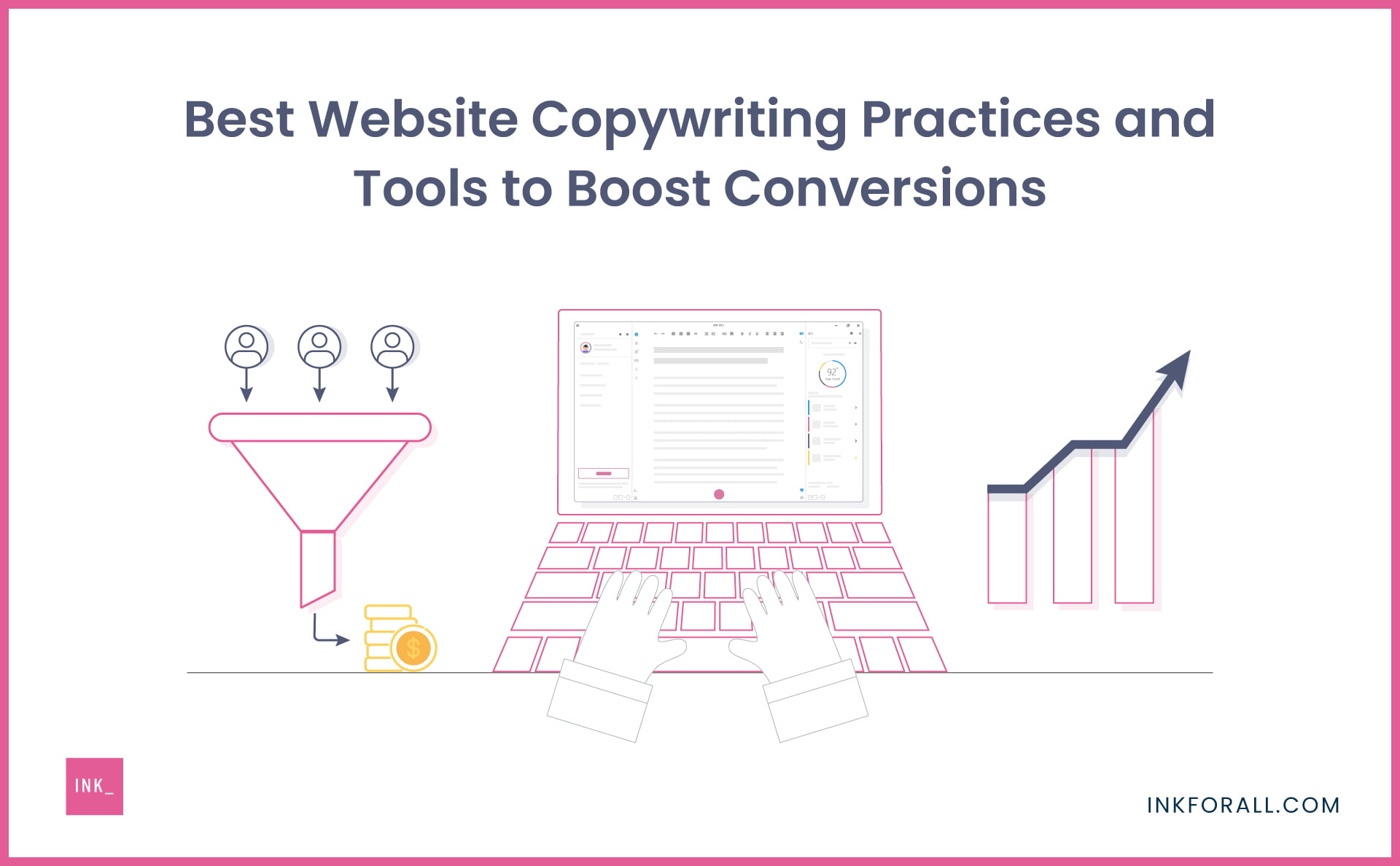 Investing in excellent website copywriting may be all you need to boost your site's conversion. But, convincing prospects to take the desired action is no easy feat — even for the most talented writers. 
Main Website Copywriting Takeaways:
Website copywriting is the process of creating content for the web.
Excellent web copy prompts visitors to take specific actions.
Poor copywriting can hurt your conversion significantly.
SEO website copywriting involves writing content that appeals to both readers and Google.
Copywriting is a form of writing that you can learn, practice, and master.
Consider starting your website copy with a clear goal in mind.
The phrase: "Your website is your best salesperson" holds true now more than ever — and for good reason. Besides serving as a store, your site also works round the clock to address prospects' needs.
There's just one small thing.
Using websites to generate leads is more effective when visitors believe you are an authority in your industry. In other words, the information on your site should be engaging, trustworthy, and persuasive (E-A-T).
That's where website copywriting comes in.
In this guide, we'll explore essential practices forwriting copy for websites. First, let's delve into what good copywriting is — and isn't.
What is Website Copywriting?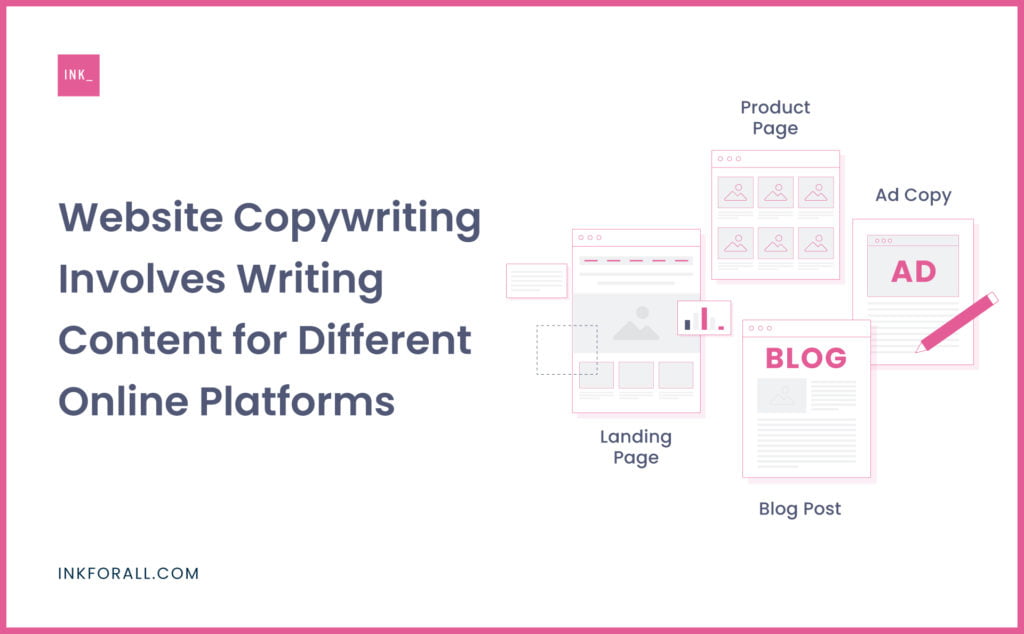 Website copywriting is the process of creating content for the web. It involves writing content for landing pages, product pages, or blog posts. But, web copywriting extends beyond writing copy for a website. It could also entail writing social media posts, ad copy, or any other web material.
Why is website copy vital, you ask? The answer is simple — it persuades readers to do business with you.
Web copy aims to identify the audience's pain points and explain how your solutions can address them. Whether you're writing copy for a landing or contact page, it's vital to write in a language that resonates with readers.
That way, prospects will become more likely to make a decision to improve their lives. Yes, that involves doing business with you.
Sounds straightforward enough, right? No, not really.
While the significance of relevant web copy is undeniable, there's also the emotional aspect. According to Harvard Professor Gerald Zaltman, 95% of our purchasing decisions occur in the subconscious mind.
In other words, emotions are what drive purchasing decisions.
With that in mind, website copy that's generic, boring, or vague is unlikely to excite customers or stir them into action. Similarly, visitors will abandon your sites with content that's as dry as the Sahara.
Indeed, bad copywriting can hurt your conversion significantly. That brings us to a critical question.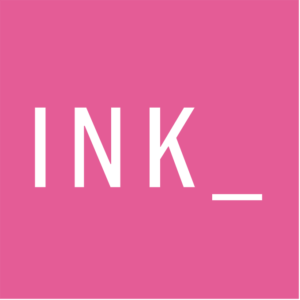 Eviction Notice: Writer's Block
Get unstuck with INK. Craft high-quality content effortlessly. Never be stopped by writer's block again.
What is Bad Copywriting?
Bad copywriting involves marketing materials that fail to motivate action because your audience can't follow the overarching idea, tone, or grammar. In other words, the web copy doesn't communicate your brand's marketing message effectively. As a result, the web page could experience fewer clicks from Google, resulting in fewer leads and conversions.
Some copywriting blunders that can result in inferior web content include:
Typographical errors or grammar mistakes
Failing to proofread your web copy
Focusing on yourself instead of your audience
Plagiarism
Ambiguous call-to-action
However, using negative terms may be the most common reason behind bad copywriting.
How Using Negative Terms Can Impact Website Copywriting
Imagine that your audience is mere moments away from writing their contact information in your online form. But, bad experiences with spammers made them a little hesitant to share their email addresses.
What do you do?
The correct option would be to reassure them with a note that highlights your company's privacy policy. Unfortunately, that can turn out to be a double-edged sword.
In a study, Michael Aagaard wanted to understand how a site's privacy policy might influence sign-ups. So, he created an online form with a note that reads: "100% privacy – we will never spam you!"
But the reassuring message backfired spectacularly, resulting in 18.7% fewer sign-ups. Here's why.
According to Aagaard, the word "spam" raises anxiety in the minds of prospects. So, including negative terms to distance your brand from bad practices might not be the best option.
Instead, consider focusing on a more positive, authoritative message.
Aagaard later reported improved conversion rates when he changed the note to "We guarantee 100% privacy. Your information will not be shared." The positive message resulted in 19.4% more sign-ups.
What is SEO Web Copywriting?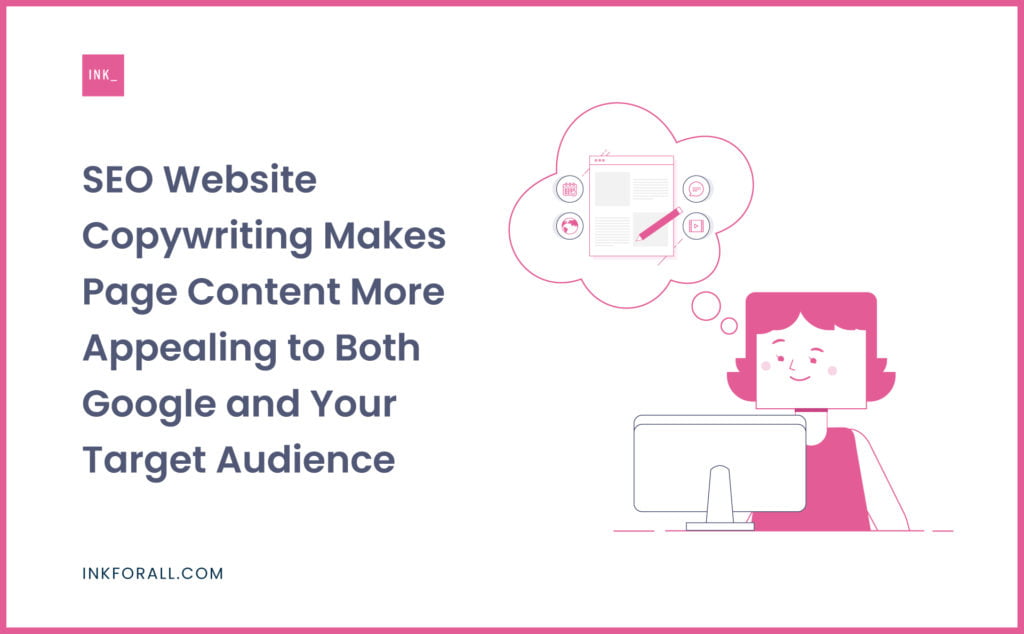 SEO website copywriting is the practice of writing keyword-optimized content that appeals to both human readers and Google. It involves writing web copy that that's relevant and helpful. That way, your audience would want to share and link to it. At the same time, businesses optimize their SEO web copy with specific keywords to improve organic visibility.
Why is it crucial to optimize your web copy for Google? We can summarize the answer in two words — search traffic.
According to a study, 68% of online experiences begin with a search engine. Furthermore, over 92% of global traffic comes from Google Search, Google Images, or Google Maps.
Besides boosting organic traffic, SEO website copywriting offers the following benefits:
Boosts credibility and authority
Improves user experience
Easy to measure
It keeps you ahead of the competition
The bottom line is that SEO web copywriting can help your business get in front of its target audience. That raises another question.
Is Copywriting a Learnable Skill?
Yes, it is! Like any skill, copywriting is a form of writing that you can learn, practice, and master. What's more, you can become an outstanding copywriter regardless of the domain you work in or your level of education. That's right — you don't need a degree.
With that said, the skills outlined below could help ease the learning process:
1. Language
An in-depth understanding of the English language is an essential skill for a web copywriter. Besides using correct sentence structure, you have to also consider word choice, spelling, and punctuation.
The good news is several web pages on the internet can help you brush up on your language skills. For example, you could explore what passive voice is and how using it might affect your SEO.
2. Ability to Carry Out Research
A good website copywriter should know how to carry out research. Yes, it involves using the internet to find information to improve your web copy's relevance.
However, excellent researching skills can also extend to knowing the right questions to ask your client. That way, you'll understand the product or service well enough to know how to sell it.
3. Proofreading
The ability to proofread and edit copy is another crucial skill for any web copywriter.
According to a study, 74% of web users pay attention to the quality of the spelling and grammar on company websites. What's more, 59% would avoid buying from businesses that made spelling or grammar mistakes.
As such, you need to carefully check your work for errors before sending it out or publishing it.
4. Ability to Empathize
As a web copywriter, it's always a good idea to put yourself in the buyer's shoes. That way, you'll have a rough idea of their pain points and how to address them.
Not only does empathy lower readers' barriers, but it also helps build trust in the brand. As a result, convincing your audience that a product or service will improve their lives becomes a straightforward task.
We've covered the skills necessary to write copy for websites. But there's more.
Best Website Copywriting Practices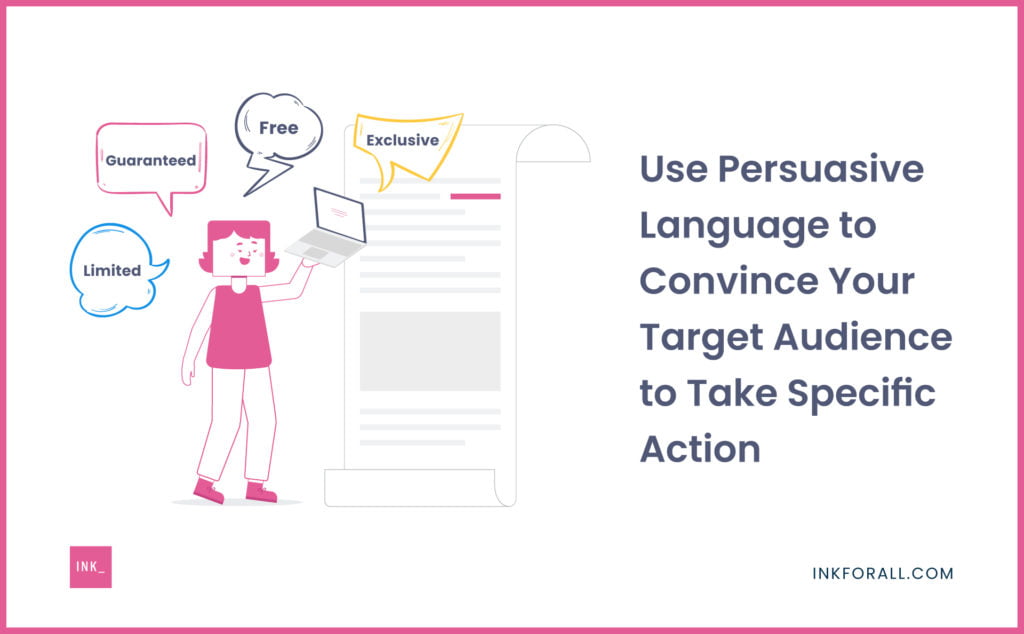 The best website copywriting practices require starting with a clear goal in mind. Before writing web copy, it's essential to identify the page's objective. Specifically, what do you hope to achieve with the page?
Are you looking to sell a product, collect contact details, or introduce your brand? Whatever the answer may be, consider using the website copywriting practices below to improve your content.
1. Write with Search Engines in Mind
Consider writing your outline with search engines in mind. Besides increasing your site's organic visibility, SEO also ensures that your marketing message reaches the most relevant audience.
Some factors that you may want to consider when drafting your web copy are:
Keyphrase: Words or phrases that searchers enter into search engines.
Page Title: Headline that appears on search engine result pages (SERP).
Header Tags: Heading tags that provide structure for your page.
Meta description: HTML element that summarizes your page for human users and search engines.
Start with keyword research to identify relevant phrases that your target audience might enter into Google. After that, you could include the target keyphrase in your page title and header tags to improve relevance.
While meta descriptions are not ranking factors on Google, they help the search engine understand your page. So, it's best to write a compelling meta description that'll drive clicks.
After laying a solid SEO foundation, the next step is to create the blueprint for your web copy. That's where an outline comes in.
2. Create a Detailed Outline
A content outline is a visual representation of the web copy that you're writing. Think of it as a skeleton that provides a complete picture of the finished product — just without the article.
For example, a blog post outline might include headers, pictures, videos, statistics, and infographics to help create engaging content. Conversely, the framework for contact pages often features only header tags and images.
An outline also provides an opportunity to pick your preferred copywriting formula. It could be any of the following:
Regardless of your preferred formula, it's essential to make your copy as compelling as possible. That brings us to another web copywriting practice.
3. Use Persuasive Language
Again, website copywriting aims to convince a target audience to take specific actions. While there are different ways to achieve this goal, the best copywriters rely on persuasive language.
Sometimes, that involves writing a logical, well-structured argument that's supported by statistics or expert opinion.
However, using words that provoke an emotional reaction is just as effective. After all, emotions are what drive our purchasing decisions.
Here are other vital elements to help make your web copy more persuasive:
Use positive language
Avoid technical terms
Use emotive words in your headline
Write for your audience — not search engines
The main idea here is to know your readers before writing anything. That way, you'll know the words that might persuade them to act.
Another way to persuade customers to act is to appeal to their self-interests. In other words, focus on the benefits.
4. Focus on the Benefits
As tempting as it is to make your business the focal point of your website copywriting, it's a terrible idea.
The reality is that prospects and customers don't care about you, your company, or its proud history. Instead, their primary interest is how your product or service can help improve their lives.
As such, it's best to provide quick access to these types of features and details in your copy. Consider discussing how your customers will benefit from your product or service.
You could also use materials such as images, videos, or infographics to make your copy even more compelling.
5. Proofread and Edit
At this point, you've written the first draft of your website copy. Now, it's time to edit for flow and logical sequence.
First, check from the beginning to ensure that your spelling and grammar are correct. After that, consider editing your website copy for flow. Simply put, every idea should lead to the next seamlessly.
Also, confirm that your copy has a logical sequence. That means you don't have jumps between unrelated sections or ideas.
Again, check the complete web copy from your headline to the call-to-action. If you're satisfied with the result, consider doing it again — but in a different way.
Intrigued? Read on for how to put this in practice.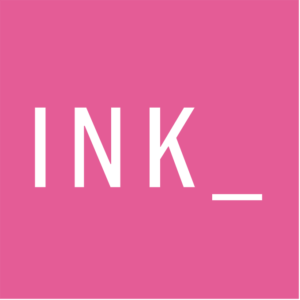 Eviction Notice: Writer's Block
Get unstuck with INK. Craft high-quality content effortlessly. Never be stopped by writer's block again.
To Wrap Up: Use A/B Testing to Improve Your Website Copywriting Practices
The process of writing copy for websites may seem overwhelming at first. And it can be. Along with devising an excellent content strategy, you also need to put hard work into writing, editing, and publishing your web copy.
But it's not over yet. Now, you have to monitor your key performance indicators and tweak them accordingly. That's where A/B testing comes in.
A/B testing involves showing two variants of the same page to different web visitors at the same time. That way, you can use visitors' responses to identify the best website copywriting practices to help improve conversion.