Here are the top six SEO and writer-friendly INK features that our users consistently tell us they love, and we want to share with you!
1. WordPress Plug-in
Did you know that INK works hand in hand with WordPress? What a huge advantage!
Let me guess: right now, you're writing your content in Microsoft Word or Google Docs and then cut and pasting it into another app for SEO optimization? Next, you upload to WordPress and then deal with the dreaded image import issues. EEK!
We make it effortless to create your content in the INK web content optimization editor and then seamlessly upload it, along with your images, into WordPress. It's really that easy.
2. Content Performance Optimization
Creating your content in INK means that it's optimized for a great ranking in Google and for easy integration into WordPress.
INK does all the heavy lifting for you. You write in INK and there are no more re-edits required in WordPress.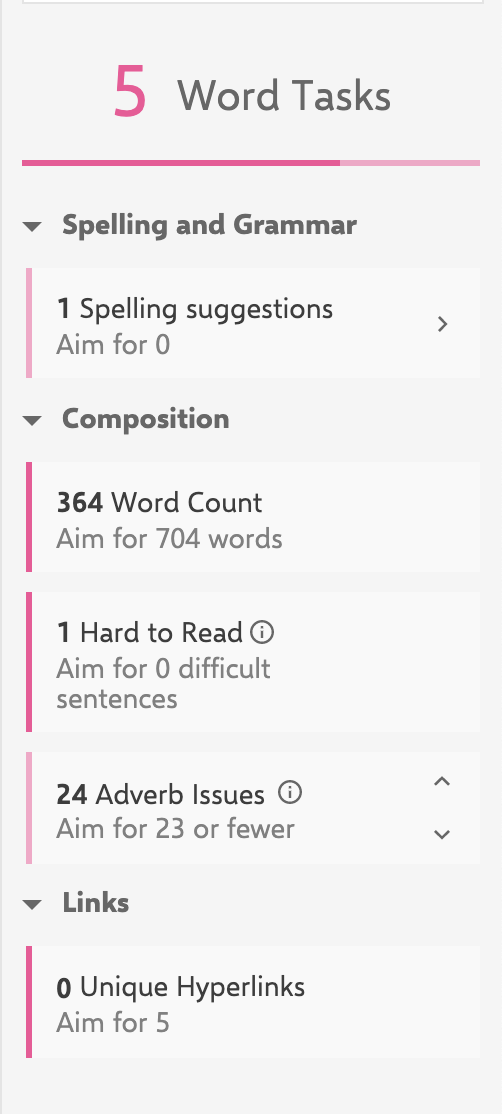 Here's a screenshot of INK helping out with this very article. It details a few suggestions on how to help this article rank better. I should address these before importing directly into WordPress.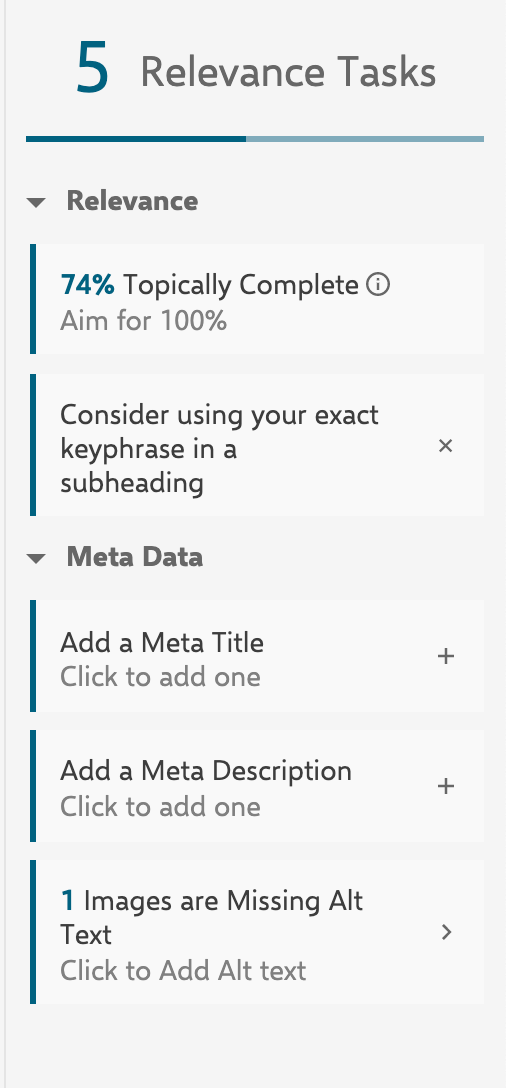 And these are my relevance issues. I have a lot of work I need to do to make sure this article gets seen by as many eyes as possible. This information is key to my success.
3. Metadata and Images Optimization
Metadata (including image metadata) is an often overlooked part of SEO. These elements are some of the first that Search Engines analyze when ranking content.
Fortunately, INK is here to help. Anytime an image is uploaded to INK, it automatically is formatted for the web. You can also input metadata directly into INK and the WordPress plug-in will also import it.

4. Personalized Word Count
One size does not fit all! We've been told that we should write 300, 500, 1000, 1250, and more words to be considered relevant.
I always use this example… the details of making a vanilla cake should not be as long as the explanation of quantum physics.
There is no rule of how long your content should be to be deemed relevant. Use as many words as you need to adequately answer the searcher's question.
Knowing how many words you should write is difficult. INK compares the length of your article with the sites you are competing against.

For this topic, INK tells me that I need 704 words to rank. Okay! I bet by the time I'm done editing I'll be close.
5. Spelling and Grammar Help
Writing is not an easy task. Is it affect or effect? These are the questions we ponder.
INK is here to help. It acts like your personal editor reading over your shoulder but without the coffee breath.
Polish your spelling and grammar before it ever is uploaded to WordPress!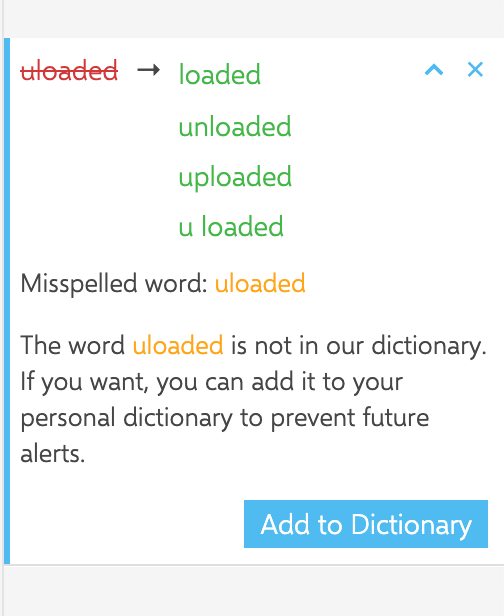 Here INK is showing me that I have misspelled the word "uploaded." Late-night editing gets us all making silly mistakes.
6. Outlining and Offline Writing Capabilities
No internet connection? Trying to unplug to get your work done without distractions? I'm sure this was a momentous step. Fortunately, INK is available for use offline. You are able to use INK for outlining and writing without an internet connection.
Enjoy your unplugged time. Then, when you're ready, you can connect and upload your creation to WordPress.
Did You Know?
I'm a HUGE fan of the infomercial saying "But wait! There's more!"
Need for someone else to view your INK file? You can send INK files just as you would a document, picture, or video. Just export it and attach it! Click File-Save As and you'll be able to name and store your .INK file so you can access it again or send it to someone else!
What are your favorite INK features? Take INK for a test drive and let us know!