A compelling product review may be one of the quickest ways to increase sales on e-commerce sites. However, it's also an excellent way for affiliate bloggers to boost affiliate sales and revenue.
Main Product Review Takeaways:
A product review describes a report that customers write on e-commerce sites.
Reviews are handy for sharing information about a product with other shoppers.
Good reviews involve research and in-depth knowledge of the product.
Product review examples include customer reviews, blogger reviews, affiliate reviews, buyer's guides, and expert reviews.
Product reviews may be the quickest way to relieve shopper's concerns about a product.
The process of writing an objective product review that converts begins with knowing the product.
According to studies, affiliate marketing is responsible for roughly 16% of global e-commerce sales.
What's more, nearly 65% of affiliate marketers generate traffic by blogging. In other words, they rely heavily on writing and publishing persuasive product reviews to boost conversions.
There's just one problem.
Writing in-depth, objective reviews to help customers make informed purchasing decisions can be challenging. That's especially true for individuals that are new to affiliate blogging.
That's where this post comes in.
This article explores various product review examples and how to write a product review that converts. First, let's begin with the obvious question.
What is a Product Review?
A product review is an article on traditional or digital media in which an expert gives an opinion about a specific product. It also describes a report that customers write on e-commerce sites to help people decide if they want to buy an item. In other words, reviews are handy for sharing information about a product with other shoppers. Meanwhile, businesses use online reviews to promote their products and understand customer's pain points.
The good news is you can review virtually any product — whether it's a laptop or an electric pressure cooker. But the bad news is several of the product reviews on the internet are of low quality.
Along with glowing praise of a product, you'll also find a handful of bitter criticisms from dissatisfied customers. In other words, most online reviews don't contain information that'll help with purchasing decisions.
This raises the question of how to write a product review. Simply put, what type of reviews do customers find helpful?
What Should a Good Review Include?
Good product reviews rely on research and in-depth knowledge of the product in question. The reviewer should be able to evaluate a product's benefits and flaws objectively. That way, it becomes possible to compare it with other similar products.
Besides detailing how the item works, a good product reviewtemplate should include the following:
The product's target audience
Pros and cons of the product
Whether the product is worth the cost
Alternatives to the product
How the options measure up
With that said, these elements can vary depending on the product review example.
For instance, customer reviews focus primarily on the buyer's experience with a specific product. As a result, they don't always contain information about a target audience or how the alternatives compare.
That brings us to another question.
What is a Product Review Example?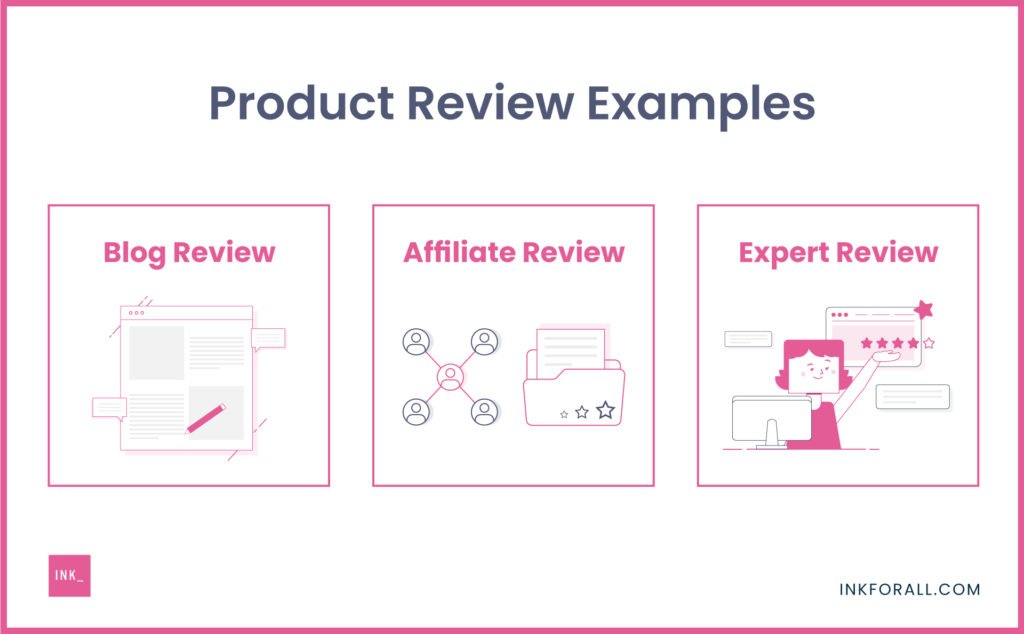 Customer reviews may be the most popular product reviewexample on the internet. You'll find these kinds of online reviews on Google My Business, Facebook, Amazon, Yelp, and other social platforms. Other product review examples include blogger reviews, affiliate reviews, buyer's guides, and expert reviews.
Here's a breakdown of these product review examples and why they're helpful.
1. Expert Review
An expert review involves industry professionals sharing their opinion or experience of a product.
Generally speaking, we tend to trust this type of review because it's intended to be unbiased and comprehensive. That means the reviewer focuses primarily on the product or service's features.
As a result, it's essential to avoid overly flattering terms when describing the product.
The tech sector is an example of industries where expert product reviews are handy. It's an acceptable way to review AI-powered software, a gaming laptop, or a web-based tool.
2. Blogger Review
Blogger reviews may not always be as technical as an expert review. But, their approach is more in-depth, friendly, and personal.
Manufacturers send products to bloggers or YouTubers in exchange for an honest assessment of their product. So, the reviewer can tell stories about their experience with the item.
Blogger reviews explore the various ways that a specific product might improve buyers' lives. As such, companies use them as a quick way to establish a trusting relationship with buyers.
3. Buyer's Guides
As with other product review examples, buyer's guides provide an objective assessment of a product. However, they're not limited to a specific niche.
That's right — a buyer's guide covers a massive range of products from various sectors. What's more, they break down the information into a format that's easy to understand.
4. Affiliate Review
Affiliate marketing provides an excellent opportunity for online retailers and content creators to grow their audience. And that begins with writing objective affiliate reviews. But what, exactly, does that entail?
Well, an affiliate review involves sharing your experience of a specific product or service. And it can take various forms — such as articles, vlogs, or podcasts.
Regardless of the format, affiliate reviews aim to provide insight into whether an audience should buy a product. Meanwhile, the reviewer would receive a decent commission for each purchase that's based on the review.
We've explored the basics of product review and examples. Now it's time to delve a little deeper.
Why is a Product Review Important?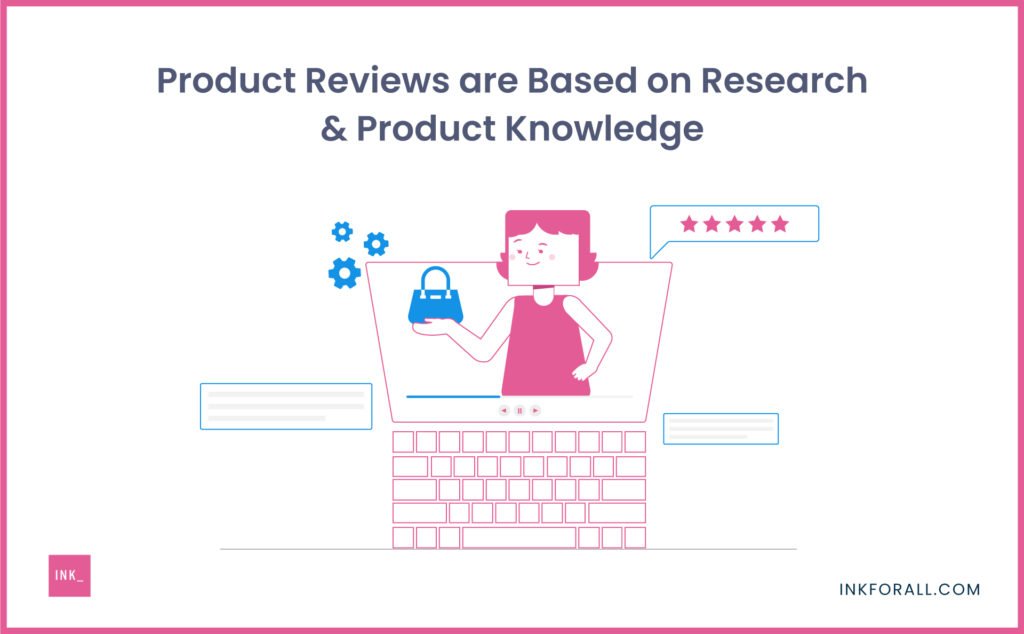 Product reviews may be the quickest way to relieve shopper's concerns about a product. That's because people's experiences — both positive and negative — significantly influence their purchasing decision. Indeed, 82% of shoppers specifically seek out negative reviews as a foundation of authenticity. At the same time, negative reviews can help businesses identify and address specific pain points in a customer's journey.
Other reasons product reviews are essential to any e-commerce business are:
They increase product visibility
Product reviews function as social proof
Online reviews can boost conversion
They provide insights for improving the product
Besides these reasons, online reviews can help build customers' trust. In fact, 92% of consumers are more likely to buy a product after reading a positive review.
Since the internet is saturated with a sea of content, tracking down an authentic review isn't always easy. That raises an essential question.
What is the Best Product Review Site?
We also have the following:
Consumer Affairs
Consumer Reports
Choice
TrustRadius
CNET
Knowing how to write reviews on Amazon may seem vital, considering its massive community of over 95 million loyal shoppers. However, the retail giant frowns heavily at the manipulation of online reviews.
That leaves you with a few options — blog review, buyer's guide, and affiliate review. With that in mind, perhaps you are wondering how to best write a product review that converts. Read on for tips on just that!
Six Tips on How to Write an Effective Product Review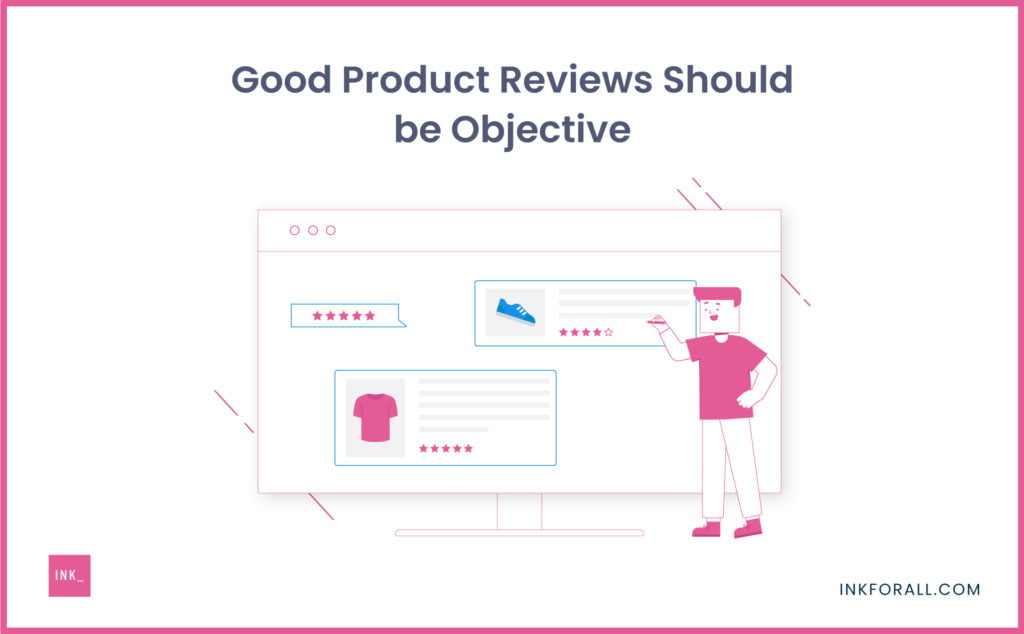 Creating an objective product review that converts begins with knowing the product. While in-depth research may help with this part, it's always better to experience the product. In other words, you may have to buy and use the item to write an objective assessment of your observation.
After using the product, here are some tips to help you write a review that'll help with other buyers' purchasing decisions.
1. Start with an Engaging Introduction
An engaging intro is vital to gaining a reader's attention and making them care about the product. Besides serving as a hook, the introduction should also provide a quick glimpse of the product you're reviewing.
For first-gen products, it's best to explain the product's functionality. That involves briefly describing the features and how it compares to the competition.
If the product is an update of an existing version, you could explore how it evolved from one model to the next. You could also mention some issues that are common in the older model that the new version eliminates or addresses.
2. Provide a Detailed Description
After writing an engaging introduction to grab the reader's attention, the next step is to follow up with a detailed product description.
Your description should contain any information that consumers might find helpful when making a purchasing decision. That includes the following:
Brand name
Model number
Target demographic
Price
Specifications or measurements
While it's best to add technical information to your description, you may want to use terms that are easy to understand. However, it's acceptable to use technical jargon if your readers are industry insiders.
3. Explore the Pros and Cons
A good product review should be as objective as possible. So, it's best to avoid showering a product with effusive praise or severe criticism.
Instead, consider discussing what you liked about the product. That involves highlighting each helpful feature and how it can improve the buyers' lives.
But it's not enough to focus on the good side. An unbiased review should also explore a product's shortcomings and how you reached this conclusion.
The goal here is to write a review that's as balanced as possible.
4. Compare the Alternatives
As you may have guessed, this part involves considering how the product measures up to the alternatives.
Consider comparing the product under review with other similar items that are available to the buyer. For example, you could discuss both products' benefits and shortcomings.
Comparing the alternatives demonstrates your knowledge of the product. What's more, it gives your readers a point of reference. It's especially important for first-time buyers.
5. Speak to the Target Audience
At this point, we have a complete picture of the product and how it works. Now, it's time to pinpoint the target audience.
This begins with describing the individuals that you think can benefit from the product. After that, you can identify the specific features you believe will improve the target audience's lives.
Finally, discuss how the product compares to other similar items that the reader may have used in the past. That way, it becomes easier for a buyer to decide whether the product is right for them.
6. Conclude the Product Review
End your review with a take-home message, which could include recapping the vital points and expressing your opinion.
A well-written conclusion summarizes the product and whether it lives up to the company's marketing message. But, it also offers an excellent opportunity for the reviewer to express their opinion.
You could also encourage your readers to leave feedback before writing a final verdict about the product.
Wrapping Up: Write Product Reviews that Convert
Well-written product reviews offer an efficient way for businesses to reach their customers. After all, 84% of people say that they trust online reviews as much as a personal recommendation.
However, it's also an excellent opportunity to monetize your affiliate marketing blog.
As tempting as it may be to write a five-star review for every product, it's best to focus on the facts. These include the features, benefits, flaws, and how the product might improve the consumers' lives.
Remember, the goal here is to write a product review that can help with the buyer's purchasing decisions.