Saying that the AI writing market is saturated is stating the obvious. There are many tools to choose from, and it is easy to get lost in the sea of tools.
Jasper, formerly Jarvis, and INK are two top AI writing tools. Read on for all the deets on a comprehensive Jasper vs. INK comparison where we assess the features of these two tools. By the end of the article, you'll have a clearer picture of what each tool does ― and which is right for you!
Jasper vs. INK: an Overview
Jasper and INK are two AI-powered writing tools suitable for various categories of users. These two AI writing tools share many similarities, from their use cases to various features. In this article, we analyze these features to better understand how they work.
Jasper Features
AI Writing Templates
Jasper offers more than 40 AI writing templates for various writing needs. From ads to blog content, Jasper offers templates to simplify your workflow. For instance, the creative story template creates stories, while the PAS template writes copy using the problem-agitate-solve framework.
Boss Mode
Jasper's Boss Mode helps users write blog posts five times faster. You can switch between 50 writing templates to create content in this mode. By activating Boss Mode, users can organize their documents for access whenever they need to switch between documents or projects. This means things don't get confusing when writing content for different projects.
Recipes and Workflows
Jasper's recipe and workflow functionality allows users to write content faster. The recipes are pre-built workflows containing different commands that you can use as a template when creating your content.
Jasper Chat
Jasper offers a chat function where you interact with AI. Here, you can command Jasper to write different types of content for you via prompts. Also, Jasper remembers what was said earlier in the conversation to better understand your needs.
Jasper Art
There has been more interest in AI-powered art generators recently. Jasper offers this functionality too. Users can use the tool to create images to accompany their blog posts by entering text prompts. The Jasper Art tool is an add-on. This means you'll have to pay extra to use this tool.
Other Features
Some other features of Jasper include the Chrome extension, multiple language support, and integrations. With the Chrome extension, you can access Jasper's functionalities while browsing Chrome.
Further, Jasper supports more than 20 languages, making writing in your desired language easy. Jasper also integrates with tools like Copyscape, Surfer SEO, and Grammarly. It is important to note that the integration with Surfer SEO and Copyscape is to be paid for separately.
INK Features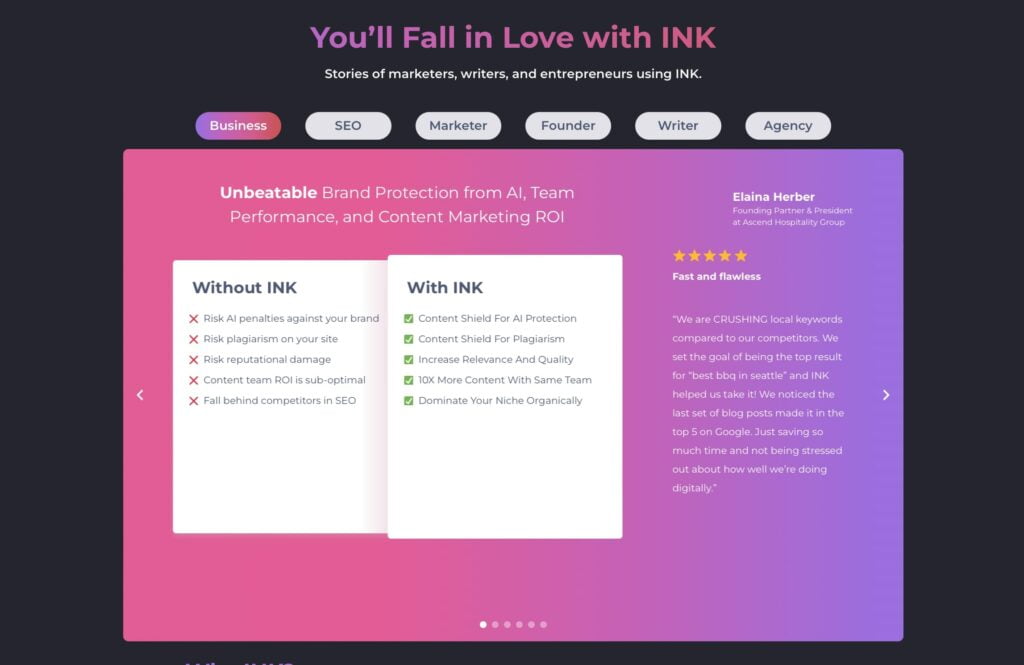 INK Editor
Think of the best document editors out there, and they all have one thing in common — ease of use. This is exactly what you get with INK.
The INK Editor introduces users to a new world of creativity and writing excellence. It is a web-based text editor that allows you to create your articles and blog content in half the time.
You can create well-formatted text with appropriate headings and formatting in a snap. You can switch between dark and light modes to improve productivity. The editor is fully integrated with the INK SEO optimizer and gives you quick access to the Command Mode inside the AI Assistant.
You can also use the recipe and workflow functions from the INK editor. The Grammarly integration means you can check your writing for spelling and grammar errors as you write.
Essentially, you have all you need to create great content that is optimized for search engines without leaving the editor!
Command INK
The Command INK function is fully integrated inside the INK Editor.
With this feature, you can tell the AI to write whatever you want. Do you need a blog intro or a bullet list? Just input your command into the box provided, and INK will handle the rest!
INK SEO Optimizer
What's the point of writing the best content — if it's not seen? For your content to have reach, it must be optimized for search engines. INK helps you do this with its SEO optimizer.
The SEO optimizer is fully integrated with the INK Editor so that you can optimize as you write. INK's SEO optimizer is proven to improve your search engine ranking by 450%. By completing tasks in the SEO optimization sidebar, you can move your content closer to the top of the SERP.
Short-Form Writing Templates
INK offers more than 130 short-form AI writing tools.
Do you need to write product descriptions or copy based on popular frameworks like AIDA or PAS? Check INK's array of writing templates, and you are sure to find a tool dedicated to your needs.
AI Assistant
INK offers an AI Assistant that you can use to write a full-length article with a single prompt. The AI Assistant has a simple interface, making it easy to use. Using INK's AI Assistant is similar to using the assistants on your phone. Give your instructions and watch the AI do its magic.
The great thing about the INK AI Assistant is that you get multiple outputs for every prompt you enter. This means you're not limited to a single output; there are several options. In addition, the AI Assistant has advanced options that lets users choose their preferred tone of voice and output language. Do you want an adventurous tone or a bold one? Just select your choice from the drop-down menu.
Recipes and Workflows
INK also has recipes for users to create content even faster. The recipe function is fully integrated with the INK editor. Content creation takes time, but you can make it faster with INK's recipe function.
You can also use pre-made recipes for common writing tasks like blog introductions and outlines. The great thing is that you can create your own recipes as well, and they are super easy to create!
The workflow function brings similar recipes together so that you have all you need in one place. With the blog post workflow, for instance, you can have recipes for blog introductions, body paragraphs, and blog conclusions.
AI Planner
Writing doesn't begin when you pick up the pen to write or sit at your keyboard. You have to plan ahead. This is where INK's AI planner can help. The AI planner subsumes two main tools — the keyword research tool and the keyword clustering tool.
INK AI Keyword Research Tool
In years past, keyword research was about spending long hours at your computer filtering keywords. With INK's AI keyword research tool, you can automate this process and save precious time.
Users only need to enter their primary topic, target audience, and audience objective to get started. INK can even brainstorm relevant audiences for you! INK's keyword output usually includes CPC, keyword difficulty, trend, and search volume.
INK AI Keyword Clustering Tool
The keyword research tool's keyword list can be clustered into content hubs. You can group keywords with similar search intent together using this clustering tool. By clustering keywords, you can avoid duplicate content on your site.
You don't need prior SEO experience to use the keyword clustering tool. Users can paste their list of keywords or import their keywords from tools like Ahrefs and Google Search Console.
AI Image Generator
You can also create images to accompany your content with INK. This advanced tool allows you to input text prompts and generate images. For every prompt, INK generates four water-marked images for you. You can download and share the generated images.
INK's AI Image Generator comes at no extra cost to you. Your INK plan gives you unlimited access to this amazing tool. In addition to your prompts, you can also select your preferred aspect ratio for the image output.
Content Shield
With INK's AI content shield, you can now check your content to find parts that are at risk of getting flagged as AI-generated.
The tool also checks your content for plagiarism. It is fully integrated into the AI writer so that you can check in real time. INK's AI content shield encourages a balance between human and AI writing for the responsible use of AI.
Jasper vs. INK: Pricing
Jasper
Jasper has three pricing options — starter, boss mode, and business plan.
Jasper's Starter Plan Starts at $24
It has the following features:
Jasper Chat
50+ AI templates
Browser extension
Multiple language support
Email support
Jasper's Boss Mode Starts at $49
It has the following features:
50+ Templates
Custom AI templates
29+ Languages
Documents
Chrome extension
Jasper chat
Recipes
Plagiarism check access
Grammarly
50,000 words per month for up to five users
Jasper's Business Plan (Custom Pricing)
It has the following features:
Custom AI templates
29+ Languages
Documents
Chrome extension
Jasper chat
Recipes
Plagiarism check access
Grammarly
Custom number of words per month for more than five users
INK
INK's paid plans are as follows:
Professional – $39/month
It has the following features:
Unlimited AI Writing
AI Content Shield
Unlimited AI Images
All INK apps and features Unlimited SEO Articles
Keyword research and clustering
130+ AI templates
30+ Languages
Support, community, and training
Enterprise Plan – $99/month
It has everything in INK Professional, plus:
Includes three paid users
Advanced team management
Team performance tracking
Supports teams of 50+
Premium Support
Note that INK offers a five-day free plan for new users on each plan.
Jasper vs. INK: Knowing Which AI Tool is Right for You
Jasper and INK are two highly-rated writing tools for quality AI writing.
However, INK is the better of the two tools, considering its versatility and ease of use. While Jasper has 50+ writing templates, INK offers more, with over 130 sophisticated AI templates.
The two tools are evenly matched in terms of image generation. But the upside is that you don't have to pay extra to use INK's image generator.
INK proves to be the more innovative and proactive tool with the AI content shield. With this tool, you can use AI to write without worrying about getting penalized on Google Search.
In addition, you don't have to pay for an SEO tool separately when you sign up for INK. It has a built-in SEO optimizer and AI-powered keyword research and clustering tool.
At $39/month for its Professional plan, INK is a more affordable option that delivers premium quality. With this plan, you have access to unlimited words. Jasper's plans have word limits.
Overall, INK is the all-in-one AI writing tool that helps with pre-writing, writing, and post-writing activities as well as the crucial SEO so your content will have reach and rank! Therefore, it is the best bet for anyone that wants a comprehensive AI writing tool to ensure your content will reach its intended audience.