Before we start talking about how important meta title and its length is to your SEO, let's define the differences between a meta title and description.
The Meta Title is the title tag in an HTML element that specifies the title of a web page.
Title tags are displayed on search engine results pages as the clickable headline for a given result. They are important influences on SEO as they are the first thing the searcher reads.
The title tag of a web page is meant to be an accurate and concise description of a page's content. You want to invite the searcher to click on your site.
The meta title is often confused with meta description.
The Meta Description is an HTML attribute that gives a brief summary of your site.
Google often displays the meta description in search engine results and can influence your SEO.

For the purposes of this article, we are just going to focus on the importance of the length of your meta title on SEO.
Why Meta Titles are Important for SEO
Meta title tags help Google understand what your site is about. They are also the first thing that a searcher sees on the search engine results page.
Once the searcher clicks on your site. The title tag will display at the top of the web browser.

A great tip is to add your keywords into the front of your meta title. Aim for them to be between 50-60 characters.
Keep your title memorable. Think of something clever and catchy.
Social Networks
Social networks use your meta title to determine what to display when you share or when someone else shares your site.
They also have their own meta tags which allow you to specify titles that differ from your main meta title. This can help if you'd like to use a longer title than what Google allows.
How to Write Great Meta Titles for SEO
Above, I tossed out the magic number of 50-60 characters for your meta title length. Of course, it's never that easy.
Think of it this way. Not every character is the same size. A capital "W" takes up much more space than a capital "I."
If your title is too long, Google may cut it off. No one wants to have their important keywords omitted.
Do not use all caps for your title. First of all, they are just harder to read. Second of all, capital letters generally take up more space.
Shorter titles are not always better. Longer titles may work better for social sharing. Some titles are just naturally longer.
As always, know your target audience. Do your keyword research. Make sure you have these important words in your meta title.
Tip #2: Use Keywords, But Don't Stuff
I know, I just told you to use your important keywords in your meta title. However, you shouldn't stuff them into your meta title.
Meta Title #1: Puppies for sale, Cute Labs, Healthy Labs, Lab puppies, Yellow Labs, Black Labs, Chocolate Labs
If the above is what you saw when you typed in " black lab puppies for sale near me," would you click on it?
How about if this is the title that appeared?
Meta Title #2: Healthy Black Lab Puppies for Sale in Houston.
Both use keywords. However, the first title is overwhelming. You feel as if it is screaming in your face.
The second title uses keyword but does it in an inviting way. It answers the key phrase entered. It invites the searcher to click on it.
It's important to remember that Google understands different variations of keywords. It's redundant to stuff your title with different variations of the same words.
Tip #3: Keyword Placement is Key
Does meta title influence your SEO? Yes. When possible, place your keywords at the beginning of your meta title. This will guarantee that when a searcher sees your site on their search engine results page, they will recognize the answer to the question.
Also, remember when we talked about length how important it is that your title be short. If keywords are at the end, they run the chance of being caught off.
Tip #4: Know Your Target Audience
We've touched on this briefly but now is a great time to talk about it.
Write for your target audience!
It's important that your meta title and description are optimized for SEO. You should use friendly vocabulary, optimize your images, and organize your content.
However, if you neglect your audience, none of this matters.
Google rewards sites that best answer the keywords or key phrase entered. If you've done your research and understand who you are writing for, you will provide the best solution.
This is where organic page links come into play. If others are so impressed with your explanation that they share your content, you'll start moving up the rankings even more. This is the type of exposure that you are aiming for. Google rewards these sites with high rankings.
Wikipedia is an example of this.
Tip #5 Use Unique Meta Titles
You need to use a unique meta title for every page of your site. This tells Google that your content is different and valuable. This ultimately helps boost your SEO.
This is easy to do if your site isn't too complex. But if your site is hundreds of pages, it may seem overwhelming to create a unique meta title for each.
I've been developing a content writing tool called INK that can help. It's designed to ensure that your meta title is optimized for each page. It tells me if I have too few or many characters.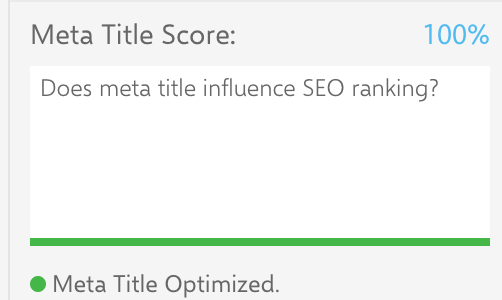 Whatever you choose to do, please don't use titles like "home" or "new page". Titles like this cause Google to think that you have duplicate content across your site.
But from the searcher's perspective, would you want to click on a site that was called "product page" or "untitled"? Of course not. Remember you want to make a good impression so your site will be visited first.
Tip #6: Brand Name Recognition
If you are content writing for a company that has a well-known name, then use it to your advantage. Just think of the advertising dollars spent creating that awareness.
Searchers will most likely type in the brand name if they are looking for specifics.
This is especially true of the car industry. For example, let's say your users are searching for a new Toyota truck. Any keyword related to Toyota truck brands will usually involve their brand names in searches.
This makes sense as generally, searchers that type in a specific brand name want content for that brand. They are annoyed if another car brand name is displayed.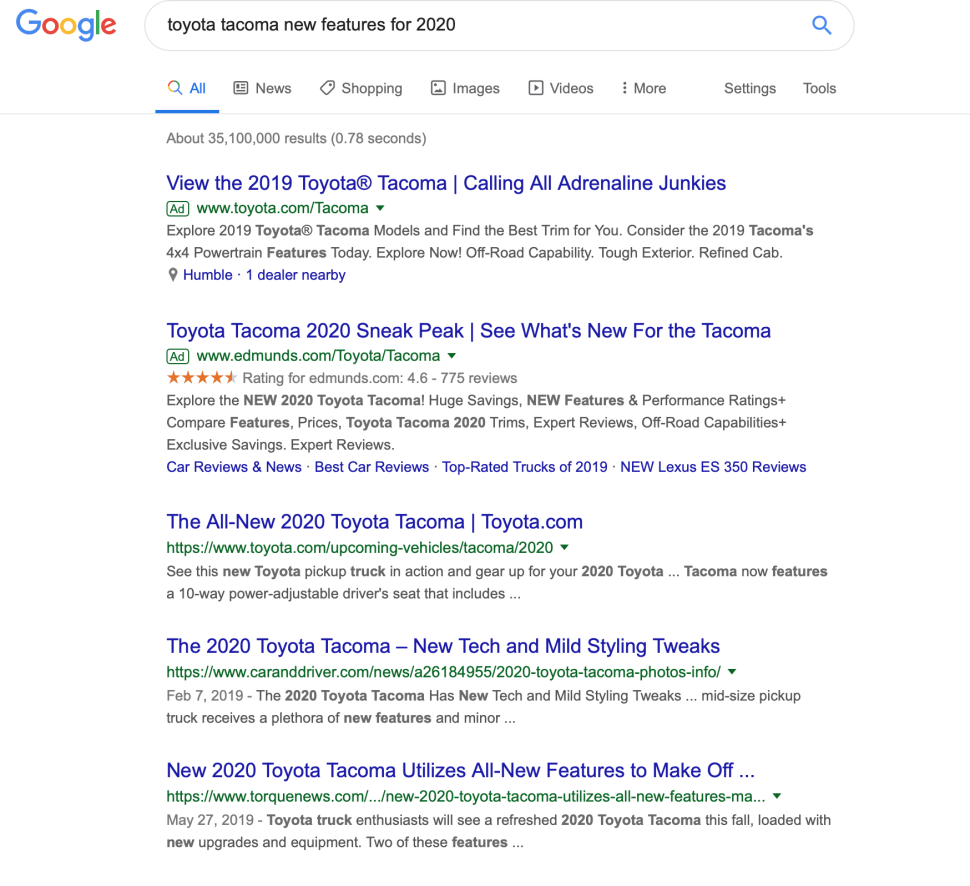 Important Note:
Sometimes, Google chooses to display a title that you haven't written. Before you spend time searching Google's frequently asked questions, check these things.
1. Too Many Keywords
You're looking for that sweet spot. Remember the labradors for sale example above? The first meta title was overwrought with keywords. No one wanted to read it. In cases like this, Google may choose to rewrite the title.
2. Your Title is too Obscure.
You've written a great article. However, your meta title doesn't match your subject matter. This is not always blatant. It could be slightly off enough that Google notices. Google may choose to rewrite your display title.
Think of them as doing you a favor. They're helping your article get seen by more eyes. If this is happening to you, try rewriting your meta title to closely mirror your topic. Then, see if your meta title will remain.
3. Your DMOZ Listing is Old.
This is how Moz.com explains this. "In rare cases, search engines may pull a title from DMOZ (aka Open Directory Project). If your display title in search doesn't match your title tag but does match your DMOZ listing, then you can block that substitution with the Robots NOODP tag.
Meta robots is a fairly technical topic, but if you're seeing an unexplained display title in search engine results pages, do a quick search on DMOZ for your business. You might save yourself a few headaches."
4. Use INK.
INK is the tool that I mentioned above. I've developed it to help content writers optimize their pages for the highest search engine ranking possible.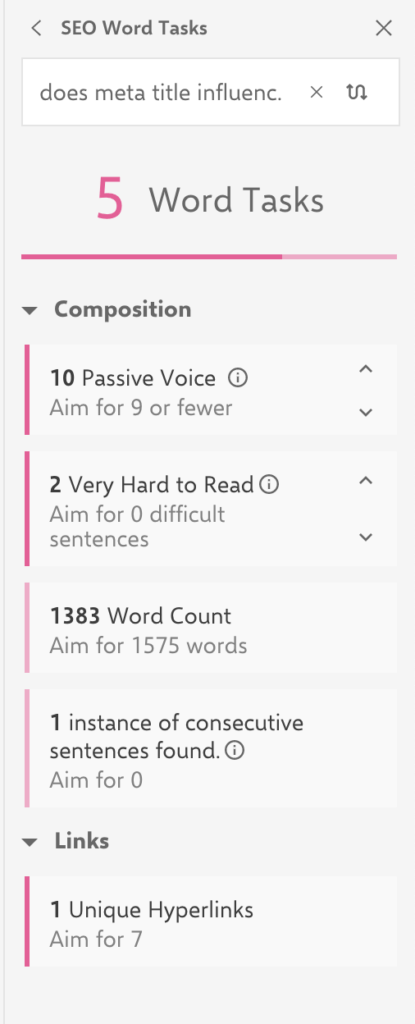 While I've been working on this article, INK has been running in the background. It ensures that I'm writing as on topic as possible to compete with my competition.
In the checklist above, it notes that I have used passive voice too much. I want to sound like an authority on this subject, so I'll make the corrections.
INK tells me that I have two sentences that are hard to read. I often like to combine subjects into one sentence. I bet I've done that this time. Sentences should be short and concise.
Word count is so important in SEO ranking. If your competition has 2000 words on a subject but you've only written 500, this is an issue of perceived authority.

INK reminds me that I've optimized my meta title but I haven't completed my meta description yet.
I also need to work on my key phrase usage. I haven't used it enough throughout this text. I need to consider adding it to my first paragraph and using it in a subheading.
All of these items will work together to help make this article rank at the top of the search engine optimization page.
INK is free. Download it today and see just how much higher your content can rank.