There is no magic length of your content that is a positive or negative influence on your SEO ranking. Google rewards sites that best answer the key phrase entered by the searcher. However, there are components of your content that do affect the length. These influence whether you get moved to the top spot or sent to the dreaded second page.
Back in the Olden Days of Google…
Since Google launched in 1998, thoughts on the length of content to optimize a site's SEO have changed. 250 words was the magic number thrown around for forever. Either more than 250 or less than 250 words depending on the year and Google analytics.
At one point, content enthusiasts considered 250 words too overwhelming for most searchers. It was thought that no one wanted to read that many words. The term "skimmer" was thrown around to describe the person Googling a key phrase. Image heavy pages were used to replace text.
A good example of this style used today is a landing page.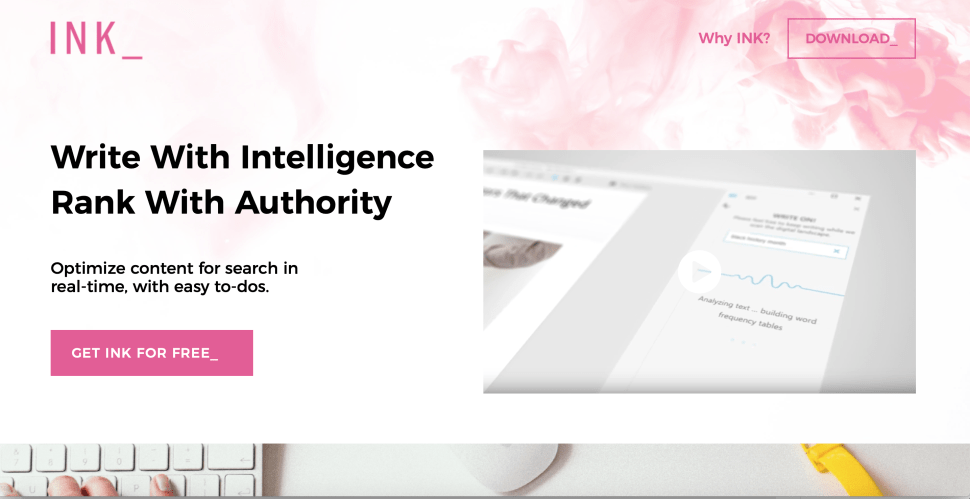 Now, however, things have changed pretty drastically. Short-form content can work well for landing pages, but for search queries, it's an entirely different story.
If you want to rank for the large majority of keywords, you're going to have to write far more than 250 words. However, it's not as easy as just writing several thousand words of fluff.
Thin Content
Thin content is a term used to describe content that is filler and provides little or no value to the user. This can be anything from doorway pages, low-quality affiliate pages, or simply pages with very little or no content.
Thin content pages are also considered non-original pages, cut and pasted text from other pages, and duplicate content.
Today, a less than 250-word blog post is considered "thin content" and doesn't meet the target audience expectations.
Think of thin content as when someone is trying to tell you a story about their calculus exam. You're curious as to how the test went, had they adequately prepared, and what were some of the questions asked.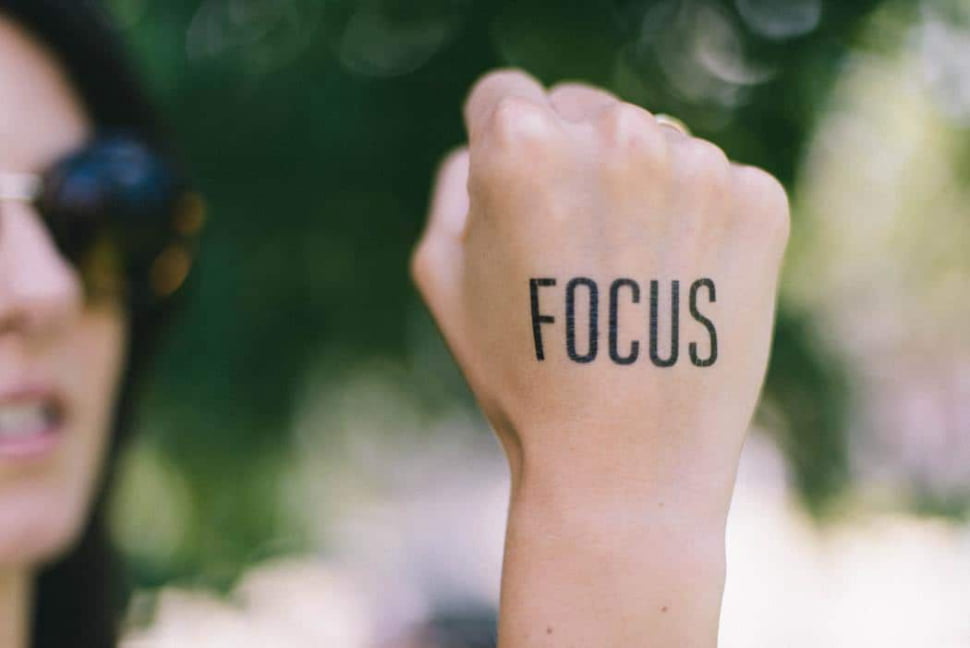 While they are sharing all the information that you've asked for, they also overshare other details that do not pertain to the test. You find out that the girl two seats down was chewing cherry-flavored gum. There was a guy in a green shirt that kicked over his water bottle spilling liquid on the boy in front of him. The professor had a hacking cough. The test taker also had a ham sandwich for lunch.
None of the information added to the story or answers the fundamental question of how the test went.
In summary, give your searcher what they are asking for. No one wants to have their time wasted, so answer the key phrase, give details, but avoid adding nonsense that doesn't advance this goal.
More Than 250 Words
Now, companies want to position themselves as experts on their subjects. They think nothing of creating 5,000+ word in-depth guides to establish themselves as thought leaders in their industry.
This is critical when a company is establishing its organic authority on a subject. If they provide a detailed answer to a question, it's much more likely the page will be shared by readers. Google looks fondly on organic link sharing and rewards these sites with a higher ranking.
The more you write, the better chance you have of explaining the answer to the question posed. A 1,500-blog post (or more) can better answer the readers' questions than a 500-word blog post. Of course, this assumes the key phrase merits a longer explanation. This is what Google is ultimately looking for.
Remember that not every key phrase though should yield a 1,500-word post. It becomes thin content and the reader becomes uninterested. Could you imagine a 1,500-word post on how to make lemonade?
Long-form vs Short-form Content
An average word-count of 2,000 to 2,500+ words for a blog post is considered long-form content. Although, some argue that as little as 700 words can be considered long-form. Others say the magic number is 1200 to 1800+ words.
Let's forget the word count and focus on what it is. In general, long-form content is data-rich with in-depth explanations. A searcher expects to see videos, graphs, images, and statistics that contribute to their understanding of the topic. This article is an example of long-form content.
Short-form Content
short-form content is easy and cost-effective to create. But, it doesn't have much influence on SEO ranking.
Long-form content is much preferred by Google in SEO ranking. Although it's more time consuming to create, it can organically increase your brand awareness by performing better in searches. There are more backlinks, stronger brand signals, and longer time spent on the page.

This is quite simple. Google has trained users to enter more words into the search bar when asking a question. A specific key phrase is rewarded with the exact answer instead of the searcher having to click on multiple links to find their answer.
This is backed up by data released by Hitwise. 8-word search queries were up by 34,000%. This trend has only continued to grow.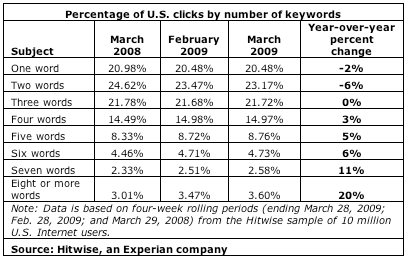 The use of keywords is a critical factor in your SEO ranking. If the key phrase is not used throughout your text, it will be considered topically incomplete by Google. The number of times the key phrase is sprinkled throughout your text is much more important than the length of your content. It demonstrates that you are answering your question.
Here are the most important uses for keywords:
Keywords in the URL slug
Keywords on-page in the body of the copy
Keywords used in heading and subheadings
Keywords in the image alt text
Internal links on your own site pointing to the page have keywords in the anchor text
Google doesn't like pages that are overflowing with keywords either. Google has gotten smart and learned to distinguish between valuable and low-quality content, especially since the launch of Google Panda.
Write for Your Target Audience
Please don't forget this. The number one influence on your content's SEO is how efficiently you answer the searcher's question. It has nothing to do with the length of your content.
A person enters a key phrase in Google. They are looking for answers. If your content solves their issue and does it with authority, it will increase your SEO ranking. This can be achieved in 250 words or 2,500 words.
It's important to keep in mind who you are formulating your answers for. Don't use technical terms if you are writing for a non-technical audience.
The reverse is true. If your target audience is technical, make sure you are using the terms they would use to discuss your key phrase. Think about what they would say if they were talking to a group of their peers.
Go as Deep Into Your Subject as Your Target Audience Will Tolerate
Once again, this goes back to knowing who your target audience is. Identify what key phrase you are writing for. Then, put yourself in the searcher's mind. Ask yourself what sort of answer are they expecting.
For example, a person searching for "how do I start a square foot garden" has certain expectations. They are different expectations than someone searching for "how do plants synthesize high energy carbohydrates."
Basics for Optimizing Your Content
It's not necessarily the number of words when it comes to your SEO ranking. It's the size of the document. Don't think of this like "the number one ranking website has 2,000 words. That means 2,300 words must get me a higher ranking."
That's not how SEO ranking works. If it were, it would be super easy to drop in fluff content and optimize your SEO ranking.
Add images that enhance your content. Drop in data and graphs. The image should help answer your question, break up the page, or emphasize a point. Whatever the use, they increase your file size and add to the overall readability of your content. Think long-form content over short-form content.
Quality over Quantity.
This is basic math. Using more words and explanations gives you more ranking opportunities. Your keywords used correctly gives your reader the knowledge they're asking for.
The same question may be asked by a searcher using different combinations of keywords. The more detailed explanation you give allows for your keywords to be analyzed in many different ways. This isn't fluffed content. Provide real answers for your reader.
A Tool That Does the Heavy Lifting for You
This can be daunting. Fortunately, I'm involved in the creation of a product that will do all the work for you.
INK analyzes competing content and shows the number of words you should aim for to help boost your SEO.
You focus on answering the searcher's question, and INK analyzes the competition, giving you real-time data. It determines the reading level and the number of words of your competition and compares it with your article.
It ensures the length of your content will positively impact your SEO.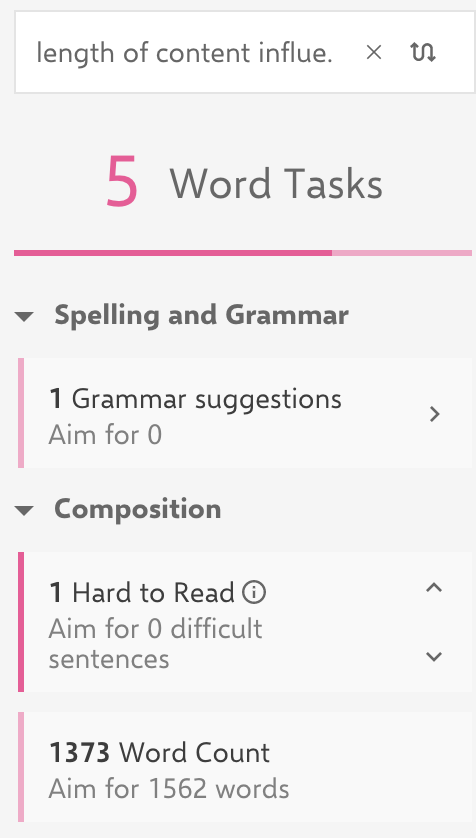 INK takes into account all the factors that affect your SEO ranking. It indicates sentences that are too complex for your target reading level. This ensures a consistent flow of information without readers exiting too soon. With this knowledge, you can tailor your content to compete with the top sites.
INK performs a number of other tasks that improve your site's readability. It checks for grammatical errors, misspelled words, complicated sentence structure, and overuse of adverbs.
There is no magic length of your content that is a positive or negative influence on your SEO. INK shows you how well you measure up against your competition.To experience INK for yourself, just visit the homepage to download INK for free today.