Microsoft Bing just globally released a new Bing Ads-exclusive extension called Action Extensions. The extension allows advertisers to highlight calls-to-action on text ads. According to the company, the new extensions will help "entice customers to immediately click and drive them to the website."
Bing reported that advertisers who participated in their beta test of the new Bing Ads extension saw their adverts' average click-through-rate increased by up to 20 percent. With the extensions, text ads will now look like this:
🧠😍 INK combines SEO and writing quality management in a single, smart editor tool. Double the quality in half the time. And, make sure your content is 4x more likely to rank in Google. 😍🧠
PC Layout

Mobile Layout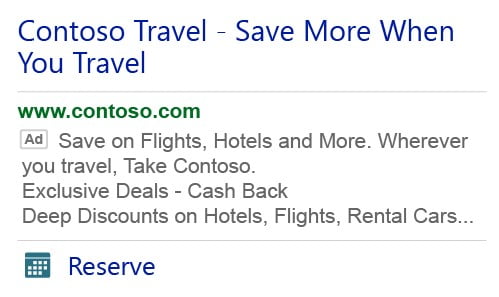 Mobile Layout with Action Extensions and site links
Action Extensions Key Details as per Bing
Bing emphasized the following key details about the newly launched ads extension:
Like site links, clicks on Action Extensions will be charged the same cost-per-click (CPC) as clicks on the ad headline.
Action Extensions can be shown with other ad extensions, including site links.
Action Extensions can be associated at the account, campaign, or ad group level, where the lowest level takes precedence. There is a limit of 20 associations per level.
The URL fields are all optional. If the URL is not provided for the Action Extension, we will use the ad's URLs (or the URL at the keyword level, if provided) as the landing page when the call-to-action button is clicked.
Action Extensions is now available in all Bing Ads markets and can be made either through the Bing Ads' bulk account management tool, campaign management service API, or the bulk API. Advertisers across different industries can make up to 70 pre-defined actions in multiple languages supported by Bing Ads.
For more information about this new tool, click here.