Businesses and marketers often struggle to remain relevant in the ever-evolving digital landscape. However, the right B2B digital marketing strategies can help you reach your audience and increase sales leads.
Main B2B Digital Marketing Takeaways:
B2B digital marketing is a strategy for businesses that sell their products or services to other companies.
Unlike B2C, emotions rarely influence B2B buying decisions.
You can attract B2B customers by offering products that address specific issues.
Some online marketing strategies for B2B include content marketing, email marketing, and social media marketing.
More businesses — including B2B companies — now rely heavily on digital marketing to increase leads.
According to a marketing survey, roughly 55% of B2B organizations are investing in digital marketing, and that's not surprising. As many as 46% of all B2B purchases in 2020 were made online.
The bottom line is that digitalmarketing has become the new norm, and reliance on traditional methods is declining. Be that as it may, a few companies are still reluctant to embrace this marketing method.
That's where this article comes in. Not only will we explore what B2Bmarketing means, but we'll also investigate how to develop effective strategies. Let's jump right in.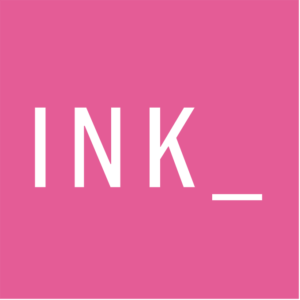 Eviction Notice: Writer's Block
Get unstuck with INK. Craft high-quality content effortlessly. Never be stopped by writer's block again.
What is B2B Digital Marketing?
B2B digital marketing is a strategy for businesses that sell their products or services to other companies. It involves using onlinemarketing to target the needs, interests, and challenges of organizations. Some examples of B2B digital marketing strategies include social media, PPCcampaigns, SEO, contentmarketing, and website content.
Meanwhile, typical examples of B2B buyers include:
Producers: Buy and transform goods and services into other products
Resellers: Sell goods and services produced by other firms
Governments: Perhaps the biggest purchaser of goods and services
Institutional Markets: Nonprofit organizations such as the American Red Cross, churches, and hospitals
Unlike B2C, emotions rarely influence B2B buying decisions.
Instead, these customers are driven by logic and financial incentives. As a result, the digital marketing strategies that work for B2C might not be efficient for B2B customers.
And that begs a crucial question:
How Do You Attract B2B Customers?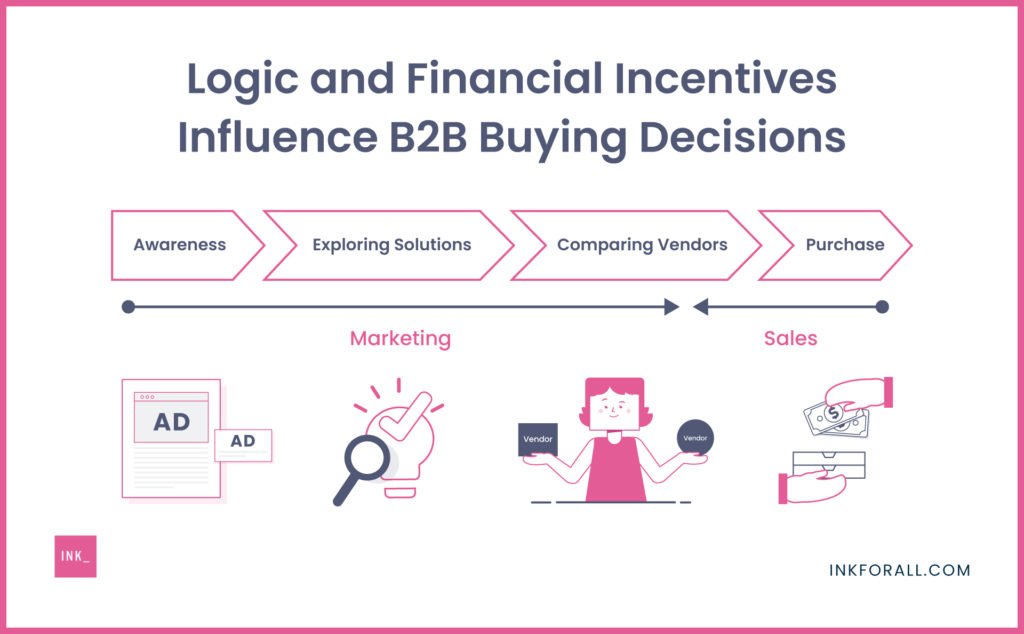 The quickest way to attract B2B customers is to offer products or services that address specific issues. Listen to your customers to find out and understand their pain points. That way, you can devise innovative products or services that directly address their problems and challenges.
If you have a product or service that B2B customers are willing to pay for, the next step is straightforward — marketing. That involves using strategies such as:
Using social media platforms
Sending personalized emails
Educating customers with content marketing
Asking current clients for referrals
Unlike B2C customers, B2B customers usually consist of highly experienced and informed individuals. As such, it's never a cakewalk to convince them.
However, the right B2B digital marketing strategy can help ease the process.
How Do You Create a B2B Digital Marketing Strategy?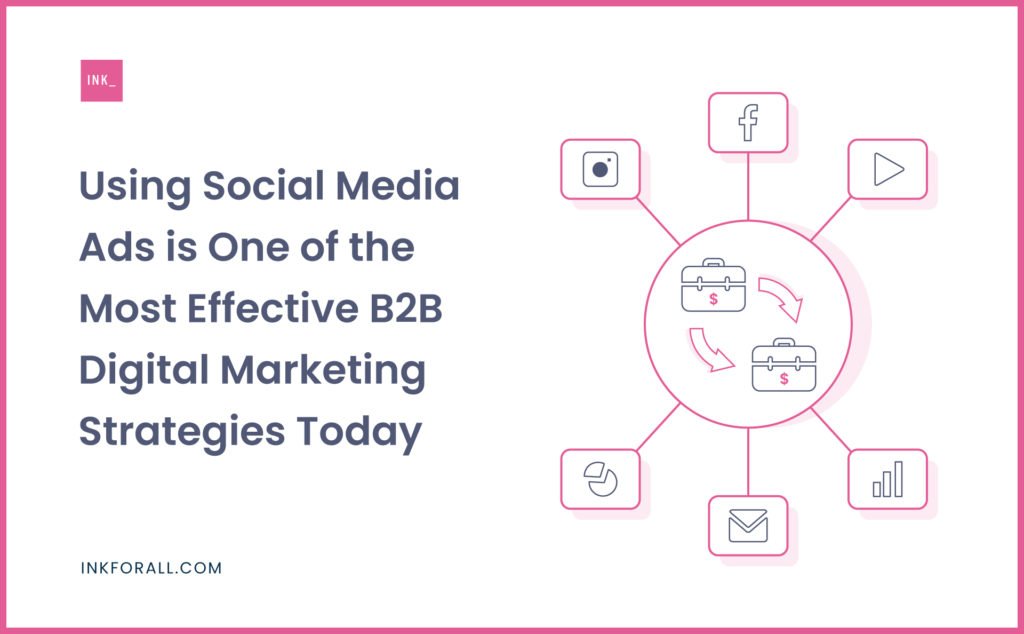 Some online marketing for B2B includes contentmarketing, emailmarketing, and socialmediamarketing. Others include search engine optimization, pay-per-click campaigns, and effective B2B websites.
Let's delve a little deeper.
1. Content Marketing
The phrase "content is king" remains valid now more than ever.
According to a B2B marketing study, content marketing was the most popular B2B digital marketing strategy in 2020. Indeed, 78% of marketing experts implemented content as a vital component of their B2B strategy.
Content marketing isn't just another online marketing buzzword.
It's critical for educating your audience and improving brand reputation. Besides increasing your social following, relevant content can also improve search and referral traffic.
Developing an effective B2B content marketing strategy involves the following:
Identify your target audience
Determine the best content channel
Pick a content type
Create a content calendar
With that said, it's essential to set specific objectives and goals. You also want to establish KPIs before you begin.
2. Email Marketing
Email marketing may be the best B2B web marketing channel for producing a high return-on-investment. 
In a survey on marketing channels, 50% of B2B marketers said email marketing is the best channel for generating leads with the highest ROI. It's also a cost-effective channel to drive revenue, producing up to $70 per $1 invested.
As in other online marketing for B2B, effective email marketing begins with defining your ideal customer profile. After that, consider segmenting your email list to create a more personalized message.
Other B2B email marketing strategies that you may want to consider:
Pick the right email service provider
Craft the perfect subject line
Keep your emails direct and easy to read
Include a call-to-action
Remember, you shouldn't approach your B2B and B2C email strategies the same way. Your B2B communication should focus primarily on providing information, facts, and how you can add value for your audience, such as increasing productivity, saving money, or the like.
3. Social Media Marketing
Over 60% of B2B marketers reported seeing ROI from paid ads on social media — and the reason isn't far-fetched. More than half of the world's population use at least one social media platform.
As a result, an effective B2B social strategy is essential to the success of any business. Again, that begins with outlining your goals for B2B social media marketing. This can be a successful approach whether you are looking to:
Educate your audience
Build credibility and trust
Create awareness
Regardless of your objective, it's best to opt for a customer-centric B2B social media marketing approach. In other words, make your brand as personable as possible across social platforms.
For example, many organizations now use Twitter for customer service. That's because the platform is a timelier alternative to email for queries, feedback, and glowing reviews.
4. Effective B2B Website
B2B customers now spend less time meeting suppliers. Instead, they dedicate more effort towards researching various potential suppliers.
That's where your website comes in.
A B2B seller website is the most common source of information for potential buyers. Indeed, 82% of professional services will investigate a company's site as part of their assessment as to whether or not to do business with them.
As such, your site should showcase your organization's expertise and be easy to navigate. You may also want to improve search visibility by optimizing your site for search engine indexing.
Other tips for an effective B2B website include:
Showcasing educational content
Making your site mobile-friendly
Creating a clear CTA
Remember, the goal here is to generate and convert leads. So, the most effective website contains information — such as e-books and blog posts — to help buyers' purchasing decisions.
5. Search Engine Optimization
Search engine optimization (SEO) is an essential customer acquisition channel for B2B companies. That's because strong, organic visibility can convey authority and trustworthiness.
Besides, a report suggests that SEO drives 1,000% more traffic than organic social media.
The first B2B SEO strategy to consider is keywords that cut across your sales funnel. In other words, you want to determine the terms that searchers use when they're talking about or ready to buy your product. Then, devise a strategy to rank for those terms.
That way, you can develop a strategy to target buyers at different stages of the sales funnel. Other vital tips to improve your B2B SEO strategy include:
Optimizing your products and services pages
Creating a helpful B2B blog
Promote your content to earn backlinks
Your SEO efforts should focus on your B2B customers, their needs, and the problems that they're looking to solve. With that, you can position your business as the perfect solution.
6. Pay-Per-Click Campaigns
With pay-per-click for B2B, you can create short, relevant ads on searchengines to drive clicks.
As with search engine optimization, building a successful PPC campaign begins with identifying relevant keywords. You may also want to structure your B2B PPC campaign according to these best practices:
Draft compelling ad copy
Build campaigns for specific buyers
Design a landing page for a PPC campaign
After launching a B2BGoogleAds campaign, the next step is to monitor its performance. That way, you'll know exactly how to improve your PPC results.
We've covered some of the most popular online marketing strategies for B2B customers. Now, let's consider some applications.
What are Examples of B2B Digital Marketing?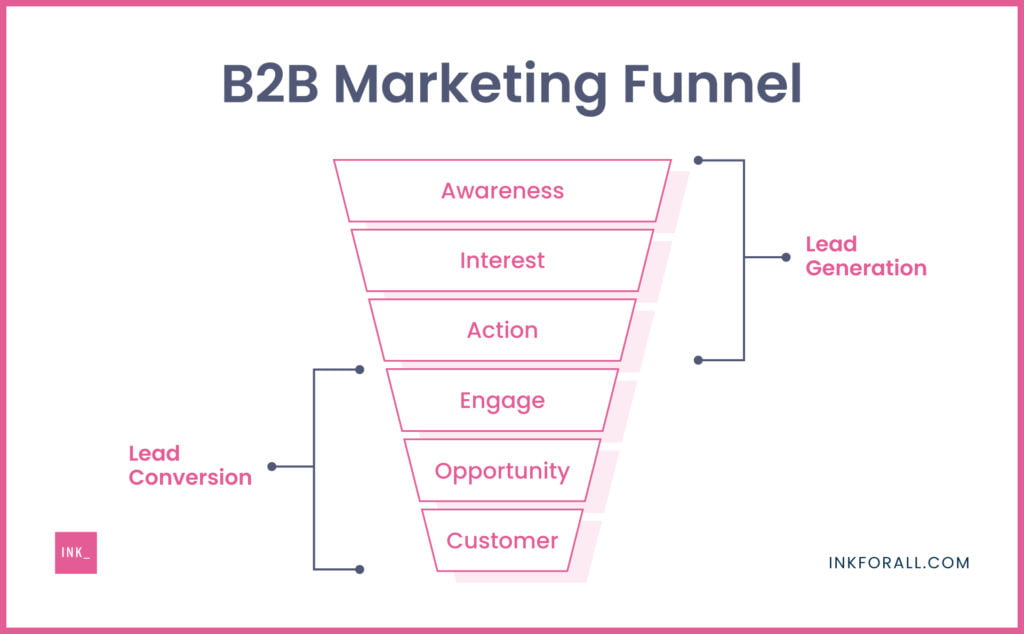 An excellent example of B2B digital marketing is the Lead Page's content marketing strategy.
Lead Page is a Minnesota-based digital lead generation company that helps businesses get online and grow. The company launched an expert marketing blog that focused on lead generation and A/B testing.
Lead Page also expanded its content to comprise several educational marketing resources. These include e-books, infographics, courses, podcasts, webinars, and case studies. This B2B strategy proved effective.
According to Lead Page's CEO, Clay Collins, the company acquired 35,000 customers in less than three years. What's more, they managed to hit over $16 million in revenue within two years of implementing the plan.
Another example of B2B digital marketing is IBM's social media marketing strategy.
The tech giant relies on platforms such as Instagram to showcase its history. And that involves sharing photos and videos of past products to build trust and credibility with potential customers.
In other words, their social media campaign showcases and weaves a narrative that IBM has enjoyed repeated success for decades. This is part of a strategy to build trust in their current and future products.
The company utilizes the power of storytelling to reinforce its values around innovation. These include explaining complicated concepts such as quantum computing — and other new technologies.
Wrap Up: How To Execute Online B2B Marketing
The most effective online B2B marketing strategy often begins with helping customers understand their problems. That way, you can offer the specific product or service that's relevant to their issue.
Beyond this approach, consider using the B2B digital marketing channels that align with your business goals. For example, social media and PPC are ideal for creating brand awareness.
Meanwhile, businesses looking to educate target customers may want to consider content marketing and SEO. After all, 80% of business decision-makers prefer to get information from an article rather than an ad.
Whatever your choice may be, it's best to keep your audience and their pain points in mind.
Your B2B digital marketing strategy should always communicate how your business can help your buyer. This is key in attracting, retaining, and building your customer base.