In a public tweet yesterday, Google announced the addition of an Android App filter to the Search Console. Meaning, website owners who have Android Apps linked to their sites can now see how their apps are performing using the Google Search Console.
As per Google Webmasters:
🧠😍 INK combines SEO and writing quality management in a single, smart editor tool. Double the quality in half the time. And, make sure your content is 4x more likely to rank in Google. 😍🧠
"Do you have an Android App associated with your website?  In Search Console you can now see the app's clicks, impressions, CTR, and position with a separate search appearance in the Performance report."
How to use the Android App Filter
You can only see the Android App filter if you have an app associated with your verified site in Google Search Console. You will see the filter by opening the Performance report in the Search Console. If you click on the Search Appearance Filter, you will see an additional option for the Android App.
By hovering your mouse pointer on the Android App option, you will see specific metrics telling you how your application is performing in Google search. The metrics include your app's number of clicks, CTR, impressions, and its current ranking position in Google search.
It looks like below: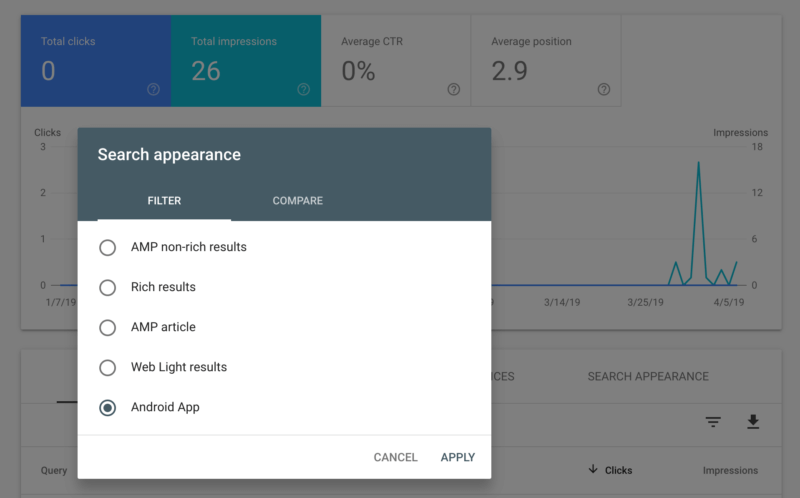 It should be noted that this filter was once included in the old Google Search Console. But, Google removed it for some reason. It appears that adding it back to the new Search Console is part of the search engine giant's efforts to make monitoring data and performance easier for site and app owners.