Need to create content quickly to scale your business? And outrank your competition? Innovative new solutions are being developed on the daily to help you do just that ― with AI writing. AI writing assistants can help you with a myriad of content creation tasks and with astounding results.

Read on to learn about AI writing assistants, their types, benefits, and the top ones on the market so you can harness their power to move your business forward ― fast.
What Is an AI Writing Assistant?
An AI writing assistant is a computer program that helps you write better and faster. It uses artificial intelligence (AI) to analyze your text, identify errors, suggest improvements, and provide feedback on the overall quality of your writing. With an AI writing assistant, you can quickly create content that is clear, concise, and free from mistakes.

A smart AI writing assistant will interpret your writing and give suggestions based on its knowledge of grammar, spelling, punctuation, and other language skills. The AI may also detect when you make mistakes and provide you with an accurate correction.

AI writing assistants are handy tools for writers, marketers, and content creators who want to produce high-quality work in less time.
What Kinds of AI Writing Assistants Exist?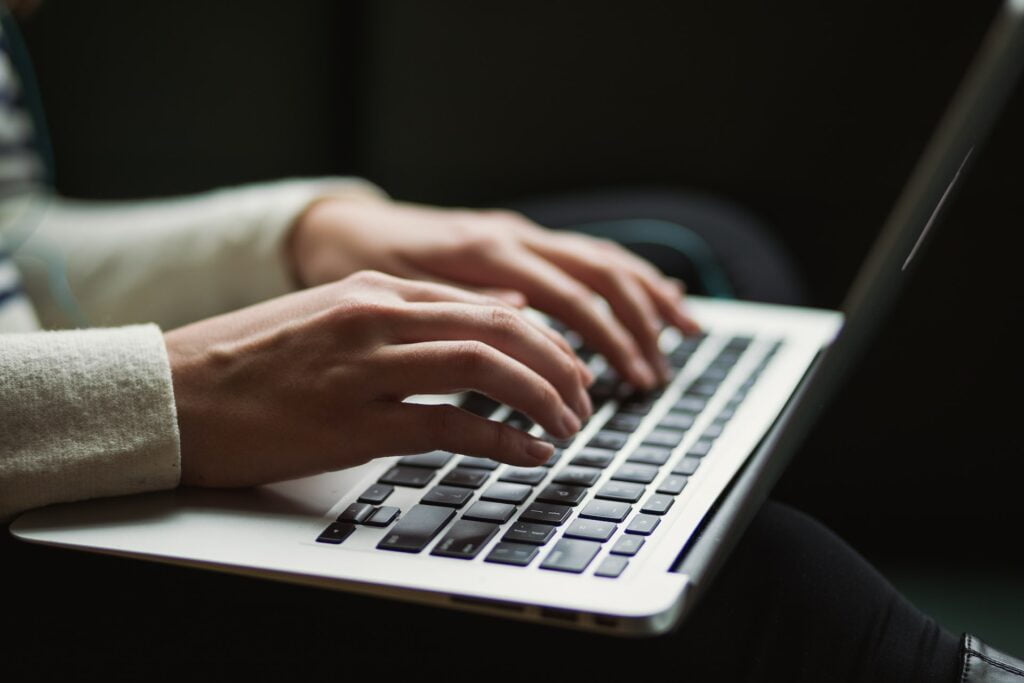 Various AI writing assistants are on the market today. Which one is right for you? That will depend on your purpose for content creation and needs. Here are some writing assistants based on their functionalities:
Natural Language Processing (NLP) tools
Contextual Grammar Checkers
Text Summarizers
Automated Editors
Spell Checkers
Photo by Glenn Carstens-Peters on Unsplash
1. NLP Tools
These tools can understand natural language patterns and expressions and detect emotions and sentiments in writing.

As a writing assistant, it tracks your language and offers suggestions to improve your writing. Ultimately, this tool lets you create cohesive, accurate, and unique content.
2. Contextual Grammar Checkers
Contextual grammar checkers help identify mistakes in context, allowing for more accurate edits.

They're an excellent tool for ensuring your content is as close to perfect as possible. These AI writing assistants are great at detecting the differences between sentences that are correctly written as well as sentences that are out of place.

They're also fantastic at spotting spelling and punctuation errors with little assistance from you. The fact that they do all the hard work for you makes them a terrific tool for improving your copy.
3. Text Summarizers
Text summarizers help provide concise summaries of long documents, while automated editors work like a human editor but at a much faster speed. This software automatically checks for certain words and makes recommendations for how to improve your writing.
4. Spell Checkers
Advanced spell checkers provide spell-checking capabilities beyond basic dictionary look-ups. Machine learning algorithms suggest corrections based on context.
Benefits of AI Writing Assistants
AI Writing Assistants provide a wide range of benefits for businesses and individuals alike.
1. Save Time and Money
AI Writing Assistants can help you save time, money, and effort by automating tasks such as proofreading, copywriting, research, and more. AI Writing Assistants help marketers, account managers, advertising case designers, and others complete work faster and scale without hiring a team.
2. Provide Comprehensive Guidance
Depending on your comfort level with writing tasks, writing assistants may enable you to produce significantly better content than you could on your own.

One of the most popular AI Writing Assistants is Google's Gmail Chrome Extension. This extension allows users to compose emails quickly with natural language processing (NLP) technology. It also provides detailed guidance on how to write effective emails to get the best results.

With this tool, you can easily follow up on leads, place orders, use keywords, design press releases, and more with ease.
3. Relevant & Current Information
Some AI Writing Assistants have the capability to assist you in tracking market developments and industry job descriptions. Additionally, some AI Writing Assistants can provide comprehensive solutions for long-term projects, freeing up resources and ensuring deadlines are met.
Top 5 AI Writing Assistants for Your Content
With the help of AI Writing Assistants, you can get all the essential tools and guidance you need in just minutes. Here are our top AI writing assistants to consider for your writing needs
1. INK (All-in-one Solution)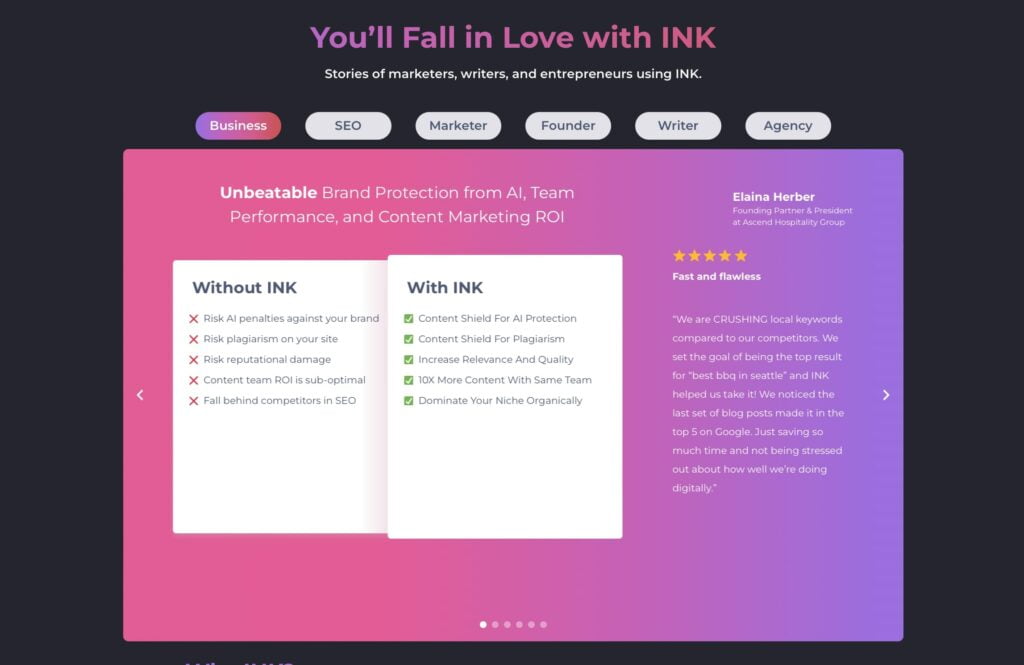 INK is an advanced writing assistant that goes beyond grammar and spelling checks. You don't want to waste time writing text with images just to have them get little traction in search engines. This is where INK comes in handy. By comparing your work to thousands of other articles online, INK helps you become a better content marketer.

If you get stuck, INK's AI can take over and generate ideas for you on what to write about in mere seconds. The opportunities for businesses and content are endless with INK.

Writing scripts, blogs, emails, social media threads, and e-commerce copy are just some of the many uses of INK. It also has Grammarly integration for ease of spell check and grammar checking.
Features:
Built-in SEO optimizer so you can outrank competitors
Sophisticated AI content generator, Rewriter & Paraphraser
AI Image Generator, Keyword Clustering & Content Shield
Exclusive free trial offer for 5 days
2. Copy AI
Writers can use Copy AI, a content creation tool, to craft content. It can also serve as a tool for coming up with subtitles and descriptions for social media and advertising. You need to provide a few topic specifics to get started with Copy AI.

While inputs as few as ten words are sufficient, lengthier ones yield better outcomes. You can enter details about your target demographic, event, and promotional efforts. Copy AI has over 90 pre-made templates for commercials, blogs, e-commerce text, videos, and social media posts.
Features:
Clean user interface
Cost-effective
Output quality is comparable to rivals
Free trial
3. Quillbot
With cutting-edge AI, QuillBot's paraphrase tool has helped many people rewrite and improve the quality of their work since its launch in 2017.

The most often used part of the software is the "Paraphraser," which can rewrite any given text in an infinite number of other forms. But QuillBot does more than just that. It also checks for grammatical errors and plagiarism in your original work before returning it to you.
Features
Free forever plan
Three-day 100% refund policy
Free grammar checker
Supports Microsoft Word, Google Docs, and Chrome extensions
4. Jasper
When it comes to artificial intelligence (AI) writing software, Jasper is known for its user-friendliness. Integrating with Grammarly is an efficient bonus.

The "Boss Mode" function facilitates the creation of blog content. Its priority chat support and over 50 copywriting templates make it a versatile AI writing tool.
Features:
Straightforward interface
Integration with SurferSEO
Copywriting templates
5. Grammarly
Another powerful AI tool is Grammarly. Its primary function is to correct grammatical and spelling errors. It also includes tone detection, punctuation analysis, sentence rewriting, alternative word suggestions, and citations. It can also check your paper for plagiarism.

The grammar-checking features of Grammarly can be used on nearly any website thanks to the extension's ability to interface with various browsers.
Features
Free & paid versions
Plagiarism & Grammar checker
Autosave feature
Integrations
Wrapping Up
If you're looking for an AI writer assistant, pick one that has everything you need to reach your content creation goals. Why settle for only a few benefits when you can have an AI assistant with a robust, full suite of features?

Instead of using several AI programs, choose an all-in-one that will be more efficient and save you time and money ― INK. Go with the best option on the market to help you produce premium SEO-friendly content fast and outrank your competition.