The internet is cluttered with articles advertising 3, 10, 20, 35, 70, most important things to you need to know about search engine optimization. The noise is deafening. Today, we're going to share the 5 biggest SEO myths circulating and why they're false.
1. Your article should have 500 words.FALSE.
The days of following a set of rules are over. We used to think that there was a magic number of words that search engines were looking for. Not true. AI and SEO expert Alexander de Ridder explains why, this just doesn't hold true anymore.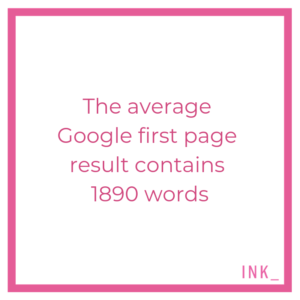 2. The more keyword mentions the better.FALSE.
Search engines wised up to this practice which in theory seems like it would work to help you rank for a keyphrase. However, today search engines can detect the overuse of keywords and either dock you for it or remove the content altogether. To gain traction in search, your content should be information-rich, not keyword-rich. INK rates your article based on how well your content has the search intent covered.

3. Metadata is a waste of time.FALSE.
Metadata is not a waste of time, we repeat not a waste of time! Optimized Meta title and description help with your click-through rate. INK's metadata optimization guides you to create the most powerful descriptions that users will actually want to click.
4. Searchability is only about words.FALSE.
Part of being successful at creating optimized content, is understanding your audience and most people like a picture, right? If you aren't using Alt tags on your images, you are missing out on an important piece of the puzzle. Read what Alexander de Ridder has to say about Alt Text here.
5. I'll never be able to compete.FALSE
If you understand the competitive landscape, then you can compete. That is the essence of the INK's content relevance score. Once you have added in the key phrase you want to compete for, INK scans the web to give you personalized goals for optimizing for your specific phrase. Goals are derived from the aggregated intel INK has found on the highest-ranking articles using that key phrase.